Babesiosis

Categories

: Blood diseases, Infectious diseases, Rare diseases

Data Licensing

For inquiries, contact:
Aliases & Classifications for Babesiosis
MalaCards integrated aliases for Babesiosis:
Babesia Parasite Infection

19
Characteristics:
Classifications:
ICD10: 31 32

ICD11: 33

Orphanet:
58
Rare infectious diseases
Summaries for Babesiosis
CDC: 2 Babesiosis is caused by microscopic parasites that infect red blood cells and are spread by certain ticks. In the United States, tickborne transmission is most common in particular regions and seasons: it mainly occurs in parts of the Northeast and upper Midwest and usually peaks during the warm months.Although many people who are infected with Babesia do not have symptoms, for those who do effective treatment is available. Babesiosis is preventable, if simple steps are taken to reduce exposure to ticks. Babesia microti is transmitted by the bite of infected Ixodes scapularis ticks-typically, by the nymph stage of the tick, which is about the size of a poppy seed. An Ixodes scapularis nymph is shown on the face of a penny. (Credit: G. Hickling, University of Tennessee)
MalaCards based summary: Babesiosis, also known as infection by babesia, is related to tick infestation and ehrlichiosis, and has symptoms including mild fevers and anemia described as malaria-like symptoms. An important gene associated with Babesiosis is HSPA4 (Heat Shock Protein Family A (Hsp70) Member 4), and among its related pathways/superpathways are Metabolism and Binding and Uptake of Ligands by Scavenger Receptors. The drugs Immunoglobulins and Antibodies have been mentioned in the context of this disorder. Affiliated tissues include heart, whole blood and salivary gland, and related phenotypes are fever and hemolytic anemia
GARD: 19 Babesiosis refers to a condition caused by microscopic parasites that infect the red blood cells. Many people who are infected with Babesia parasites do not experience any symptoms of the condition. When present, signs and symptoms may include flu-like symptoms such as fever, chills, headache, body aches, nausea and fatigue. In severe cases, Babesiosis may be associated with hemolytic anemia. Babesia parasites are primarily spread by infected ticks.
Disease Ontology: 11 A parasitic protozoa infectious disease that has symptom mild fevers and has symptom anemia described as malaria-like symptoms caused by a protozoan of genus Babesia, which reproduce in red blood cells and cause hemolytic anemia. They are transmitted by Ixodid ticks or by blood transfusion. Babesiosis is a zoonotic disease.
Orphanet: 58 Babesiosis is an infectious disease caused by protozoa of the genus Babesia and characterized by a febrile illness and hemolytic anemia but with manifestations ranging from an asymptomatic infection to a fulminating illness that can result in death.
Wikipedia: 75 Babesiosis or piroplasmosis is a malaria-like parasitic disease caused by infection with a eukaryotic... more...
Related Diseases for Babesiosis
Diseases related to Babesiosis via text searches within MalaCards or GeneCards Suite gene sharing:
(show top 50)
(show all 524)
Graphical network of the top 20 diseases related to Babesiosis: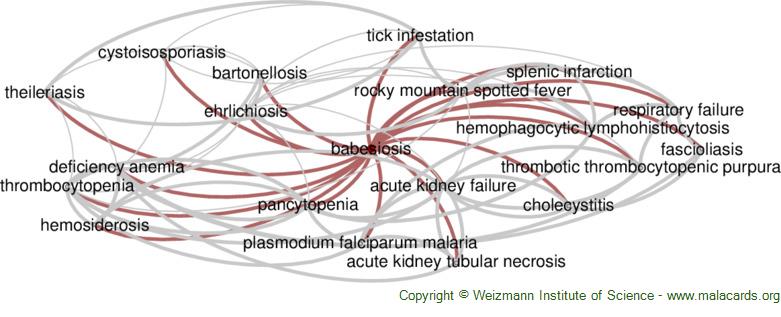 Symptoms & Phenotypes for Babesiosis
Human phenotypes related to Babesiosis:
58
30
(show all 31)
| # | Description | HPO Frequency | Orphanet Frequency | HPO Source Accession |
| --- | --- | --- | --- | --- |
| 1 | fever 58 30 | Hallmark (90%) | Very frequent (99-80%) | HP:0001945 |
| 2 | hemolytic anemia 58 30 | Hallmark (90%) | Very frequent (99-80%) | HP:0001878 |
| 3 | headache 58 30 | Hallmark (90%) | Very frequent (99-80%) | HP:0002315 |
| 4 | hyperhidrosis 58 30 | Frequent (33%) | Frequent (79-30%) | HP:0000975 |
| 5 | splenomegaly 58 30 | Frequent (33%) | Frequent (79-30%) | HP:0001744 |
| 6 | hepatomegaly 58 30 | Frequent (33%) | Frequent (79-30%) | HP:0002240 |
| 7 | fatigue 58 30 | Frequent (33%) | Frequent (79-30%) | HP:0012378 |
| 8 | thrombocytopenia 58 30 | Frequent (33%) | Frequent (79-30%) | HP:0001873 |
| 9 | jaundice 58 30 | Frequent (33%) | Frequent (79-30%) | HP:0000952 |
| 10 | arthralgia 58 30 | Frequent (33%) | Frequent (79-30%) | HP:0002829 |
| 11 | myalgia 58 30 | Frequent (33%) | Frequent (79-30%) | HP:0003326 |
| 12 | cough 58 30 | Frequent (33%) | Frequent (79-30%) | HP:0012735 |
| 13 | leukopenia 58 30 | Frequent (33%) | Frequent (79-30%) | HP:0001882 |
| 14 | nausea and vomiting 58 30 | Occasional (7.5%) | Occasional (29-5%) | HP:0002017 |
| 15 | depression 58 30 | Occasional (7.5%) | Occasional (29-5%) | HP:0000716 |
| 16 | respiratory insufficiency 58 30 | Occasional (7.5%) | Occasional (29-5%) | HP:0002093 |
| 17 | photophobia 58 30 | Occasional (7.5%) | Occasional (29-5%) | HP:0000613 |
| 18 | renal insufficiency 58 30 | Occasional (7.5%) | Occasional (29-5%) | HP:0000083 |
| 19 | congestive heart failure 58 30 | Occasional (7.5%) | Occasional (29-5%) | HP:0001635 |
| 20 | myocardial infarction 58 30 | Occasional (7.5%) | Occasional (29-5%) | HP:0001658 |
| 21 | venous thrombosis 58 30 | Occasional (7.5%) | Occasional (29-5%) | HP:0004936 |
| 22 | anorexia 58 30 | Occasional (7.5%) | Occasional (29-5%) | HP:0002039 |
| 23 | recurrent pharyngitis 58 30 | Occasional (7.5%) | Occasional (29-5%) | HP:0100776 |
| 24 | hepatic failure 58 30 | Occasional (7.5%) | Occasional (29-5%) | HP:0001399 |
| 25 | limitation of joint mobility 58 30 | Occasional (7.5%) | Occasional (29-5%) | HP:0001376 |
| 26 | coma 58 30 | Occasional (7.5%) | Occasional (29-5%) | HP:0001259 |
| 27 | confusion 58 30 | Occasional (7.5%) | Occasional (29-5%) | HP:0001289 |
| 28 | clinodactyly of the 5th toe 58 30 | Occasional (7.5%) | Occasional (29-5%) | HP:0001864 |
| 29 | disseminated intravascular coagulation 58 30 | Occasional (7.5%) | Occasional (29-5%) | HP:0005521 |
| 30 | hypercoagulability 58 30 | Occasional (7.5%) | Occasional (29-5%) | HP:0100724 |
| 31 | recurrent infections 58 | | Frequent (79-30%) | |
Drugs & Therapeutics for Babesiosis
Drugs for Babesiosis (from DrugBank, HMDB, Dgidb, PharmGKB, IUPHAR, NovoSeek, BitterDB):
| | | | | | | | |
| --- | --- | --- | --- | --- | --- | --- | --- |
| # | | Name | Status | Phase | Clinical Trials | Cas Number | PubChem Id |
| 1 | | Immunoglobulins | | Phase 3 | | | |
| 2 | | Antibodies | | Phase 3 | | | |
Interventional clinical trials:
| # | Name | Status | NCT ID | Phase | Drugs |
| --- | --- | --- | --- | --- | --- |
| 1 | Blood Donation Screening for Babesia Microti by Real-time Polymerase Chain Reaction (PCR) and by Indirect Flourescent Antibody (IFA) Assays | Completed | NCT01528449 | Phase 3 | |
| 2 | Description of Case of Infection With a New Species of Babesia and Its Molecular Diagnosis | Recruiting | NCT04960995 | | |
Inferred drug relations via
UMLS

71 /

NDF-RT

50 :
Cochrane evidence based reviews: babesiosis
Genetic Tests for Babesiosis
Anatomical Context for Babesiosis
Organs/tissues related to Babesiosis:
MalaCards

:
Heart,
Whole Blood,
Salivary Gland,
Spleen,
Bone Marrow,
Kidney,
T Cells
Publications for Babesiosis
Articles related to Babesiosis:
(show top 50)
(show all 3403)
| # | Title | Authors | PMID | Year |
| --- | --- | --- | --- | --- |
| 1 | Serum and urine profiling by high-throughput TMT-based proteomics for the investigation of renal dysfunction in canine babesiosis. 62 | | 36174949 | 2023 |
| 2 | Animal models of the immunology and pathogenesis of human babesiosis. 62 | | 36470781 | 2022 |
| 3 | Economic impact of predominant ticks and tick-borne diseases on Indian dairy production systems. 62 | | 36336025 | 2022 |
| 4 | Nested qPCR assay to detect Babesia duncani infection in hamsters and humans. 62 | | 36192649 | 2022 |
| 5 | Predicting the potential distribution of the cattle fever tick Rhipicephalus annulatus (Acari: Ixodidae) using ecological niche modeling. 62 | | 36136139 | 2022 |
| 6 | Prevalence and phylogenetic analysis of Babesia parasites in reservoir host species in Fujian province, Southeast China. 62 | | 35819239 | 2022 |
| 7 | Prevalence of Babesia spp. pathogens in the ticks Dermacentor reticulatus and Ixodes ricinus in the UK. 62 | | 36115381 | 2022 |
| 8 | Splenic diffuse heterogeneous hypoechogenicity pattern of dogs and cats: A systematic review. 62 | | 35933802 | 2022 |
| 9 | First Report of Babesia gibsoni in Cats in China. 62 | | 36428294 | 2022 |
| 10 | Babesia in North America: An Update. 62 | | 36336417 | 2022 |
| 11 | Deployment of a reservoir-targeted vaccine against Borreliella burgdorferi reduces the prevalence of Babesia microti coinfection in Ixodes scapularis ticks. 62 | Vannier E...Gomes-Solecki M | 36416014 | 2022 |
| 12 | First report of canine rangeliosis in domestic dogs from different regions of Santa Catarina State, Brazil. 62 | Rodrigues RG...de Moura AB | 36436892 | 2022 |
| 13 | Comparing the Epidemiology and Health Burden of Lyme Disease and Babesiosis Hospitalizations in the United States. 62 | | 36467296 | 2022 |
| 14 | Theileria equi in the horses of Iran: Molecular detection, genetic diversity, and hematological findings. 62 | | 36436901 | 2022 |
| 15 | Thrombospondin-Related Anonymous Protein (TRAP) Family Expression by Babesia bovis Life Stages within the Mammalian Host and Tick Vector. 62 | | 36363765 | 2022 |
| 16 | The First Records of Canine Babesiosis in Dogs from Dermacentor reticulatus-Free Zone in Poland. 62 | | 36422581 | 2022 |
| 17 | Successful treatment of babesiosis in a south-western black rhinoceros(Diceros bicornis bicornis). 62 | Zimmermann DE...Penzhorn BL | 35934911 | 2022 |
| 18 | The presence of malignant ovine babesiosis in Bosnia and Herzegovina indicates a possible emerging risk for Balkan region. 62 | | 36240662 | 2022 |
| 19 | Sensitive and rapid detection of Babesia species in dogs by recombinase polymerase amplification with lateral flow dipstick (RPA-LFD). 62 | | 36446883 | 2022 |
| 20 | Genetic diversity in Babesia bovis from southern Africa and estimation of B. bovis infection levels in cattle using an optimised quantitative PCR assay. 62 | Byaruhanga C...Collins NE | 36427476 | 2022 |
| 21 | A vaccine for human babesiosis: prospects and feasibility. 62 | | 35933301 | 2022 |
| 22 | Procalcitonin as a Potential Biomarker in the Study of Babesiosis Caused by B. microti. 62 | | 36364974 | 2022 |
| 23 | Periviscerokinin (Cap2b; CAPA) receptor silencing in females of Rhipicephalus microplus reduces survival, weight and reproductive output. 62 | Wulff JP...Pietrantonio PV | 36203198 | 2022 |
| 24 | Novel equi merozoite antigen (ema-1) gene heterogeneity in a geographically isolated Theileria equi population in Croatia. 62 | | 36316753 | 2022 |
| 25 | Delivery and effectiveness of entomopathogenic fungi for mosquito and tick control: Current knowledge and research challenges. 62 | | 35914564 | 2022 |
| 26 | Molecular Epidemiological Investigation of Piroplasms and Anaplasmataceae Bacteria in Egyptian Domestic Animals and Associated Ticks. 62 | Abdel-Shafy S...Abdel-Rahman EH | 36297251 | 2022 |
| 27 | A novel promising diagnostic candidate selected by screening the transcriptome of Babesia gibsoni (Wuhan isolate) asexual stages in infected beagles. 62 | | 36217160 | 2022 |
| 28 | Seasonal fluctuations of Babesia bigemina and Rhipicephalus microplus in Brangus and Nellore cattle reared in the Cerrado biome, Brazil. 62 | | 36307861 | 2022 |
| 29 | Molecular epidemiology and characterization of Babesia bovis in cattle of Khyber Pakhtunkhwa province, Pakistan. 62 | | 36208348 | 2022 |
| 30 | Failure of an Approximately Six Week Course of Tafenoquine to Completely Eradicate Babesia microti Infection in an Immunocompromised Patient. 62 | | 36145484 | 2022 |
| 31 | Repurposing of the Malaria Box for Babesia microti in mice identifies novel active scaffolds against piroplasmosis. 62 | | 36123705 | 2022 |
| 32 | Incidences of Rhipicephalus (Boophilus) microplus (Canestrini, 1888) Transmitted Pathogens in Cattle in West Africa. 62 | | 35713759 | 2022 |
| 33 | Eco-epidemiology of equine piroplasmosis and its associated tick vectors in Europe: A systematic literature review and a meta-analysis of prevalence. 62 | | 34333863 | 2022 |
| 34 | High genetic diversity of Babesia canis (Piana & Galli-Valerio, 1895) in a recent local outbreak in Berlin/ Brandenburg, Germany. 62 | | 35689449 | 2022 |
| 35 | Babesia duncani as a Model Organism to Study the Development, Virulence, and Drug Susceptibility of Intraerythrocytic Parasites In Vitro and In Vivo. 62 | | 35512141 | 2022 |
| 36 | First Molecular Identification of Babesia, Theileria, and Anaplasma in Goats from the Philippines. 62 | | 36297166 | 2022 |
| 37 | Development of a duplex real-time PCR assay for simultaneous detection and differentiation of Theileria equi and Babesia caballi. 62 | | 35089645 | 2022 |
| 38 | In vivo activity and atom pair fingerprint analysis of MMV665941 against the apicomplexan parasite Babesia microti, the causative agent of babesiosis in humans and rodents. 62 | | 36172647 | 2022 |
| 39 | A prime-boost combination of a three-protein cocktail and multiepitopic MVA as a vaccine against Babesia bigemina elicits neutralizing antibodies and a Th1 cellular immune response in mice. 62 | Montenegro VN...Wilkowsky SE | 35792436 | 2022 |
| 40 | Clinical and Hematologic Findings in Babesia canis Infection in Eastern Slovakia. 62 | | 35831668 | 2022 |
| 41 | Efficacy of the Antimalarial MMV390048 against Babesia Infection Reveals Phosphatidylinositol 4-Kinase as a Druggable Target for Babesiosis. 62 | | 35924942 | 2022 |
| 42 | High Asymptomatic Cases of Babesiosis in Dogs and Comparison of Diagnostic Performance of Conventional PCR vs Blood Smears. 62 | Ranatunga RAS...Rajakaruna RS | 35612719 | 2022 |
| 43 | Human Babesiosis. 62 | | 36116841 | 2022 |
| 44 | Propagation of Babesia bigemina in Rabbit Model and Evaluation of Its Attenuation in Cross-Bred Calves. 62 | | 36078007 | 2022 |
| 45 | Specific and Sensitive Diagnosis of Babesia microti Active Infection Using Monoclonal Antibodies to the Immunodominant Antigen BmGPI12. 62 | | 36040206 | 2022 |
| 46 | Elucidating Parasite and Host Cell Factors Enabling Babesia Infection in Sickle Red Cells under Hypoxic/Hyperoxic Conditions. 62 | | 35977077 | 2022 |
| 47 | Molecular Reports of Ruminant Babesia in Southeast Asia. 62 | | 36015035 | 2022 |
| 48 | Bovine babesiosis in India: Estimation of prevalence by systematic review and meta analysis. 62 | | 35779644 | 2022 |
| 49 | Correction: Kumar et al. The Global Emergence of Human Babesiosis. Pathogens 2021, 10, 1447. 62 | | 36015072 | 2022 |
| 50 | Extraordinary high level of propagation of Babesia divergens in severe human babesiosis. 62 | | 35591780 | 2022 |
Variations for Babesiosis
Pathways for Babesiosis
Pathways related to Babesiosis according to GeneCards Suite gene sharing:
GO Terms for Babesiosis
Biological processes related to Babesiosis according to GeneCards Suite gene sharing:
Molecular functions related to Babesiosis according to GeneCards Suite gene sharing:
Sources for Babesiosis