Data Licensing

For inquiries, contact:
Aliases & Classifications for Exanthem
Summaries for Exanthem
Disease Ontology: 11 A skin disease that is characterized by a rash that results from a variety of causes including bacteria, viruses, toxins, drugs and autoimmune disorders.
MalaCards based summary: Exanthem, also known as exanthema, is related to viral exanthem and covid-19. An important gene associated with Exanthem is CCR6 (C-C Motif Chemokine Receptor 6), and among its related pathways/superpathways are Innate Immune System and Akt Signaling. The drugs Prednisone and Menthol have been mentioned in the context of this disorder. Affiliated tissues include skin, lung and bone marrow, and related phenotypes are homeostasis/metabolism and immune system
Wikipedia: 75 An exanthem is a widespread rash occurring on the outside of the body and usually occurring in children.... more...
Related Diseases for Exanthem
Graphical network of the top 20 diseases related to Exanthem: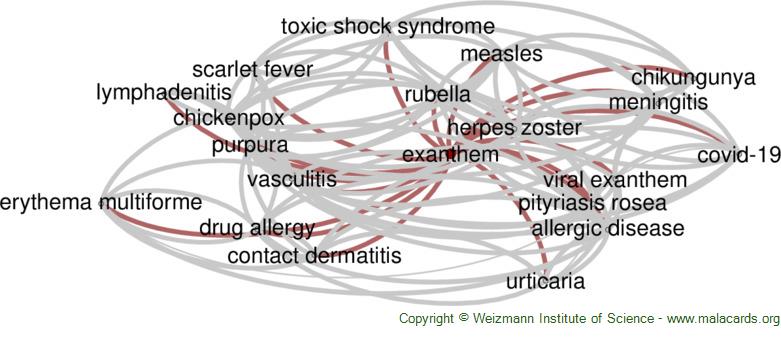 Symptoms & Phenotypes for Exanthem
GenomeRNAi Phenotypes related to Exanthem according to GeneCards Suite gene sharing:
25
MGI Mouse Phenotypes related to Exanthem:
45
(show all 11)
Drugs & Therapeutics for Exanthem
Drugs for Exanthem (from DrugBank, HMDB, Dgidb, PharmGKB, IUPHAR, NovoSeek, BitterDB):
(show top 50)
(show all 197)
| | | | | | | | |
| --- | --- | --- | --- | --- | --- | --- | --- |
| # | | Name | Status | Phase | Clinical Trials | Cas Number | PubChem Id |
| 1 | | Prednisone | Approved, Vet_approved | Phase 4 | | 53-03-2 | 5865 |
| 2 | | Menthol | Approved, Experimental | Phase 4 | | 1490-04-6, 2216-51-5, 15356-60-2 | 1254 16666 165675 |
| 3 | | Tocopherol | Approved, Investigational | Phase 4 | | 1406-66-2 | |
| 4 | | Lamivudine | Approved, Investigational | Phase 4 | | 134678-17-4 | 60825 |
| 5 | | Nevirapine | Approved | Phase 4 | | 129618-40-2 | 4463 |
| 6 | | Stavudine | Approved, Investigational | Phase 4 | | 3056-17-5 | 18283 |
| 7 | | DL-alpha-Tocopherol | Approved, Experimental, Investigational, Nutraceutical, Vet_approved | Phase 4 | | 59-02-9, 10191-41-0 | 2116 14985 |
| 8 | | Isotretinoin | Approved, Investigational, Nutraceutical | Phase 4 | | 302-79-4, 4759-48-2 | 5538 444795 5282379 |
| 9 | | Olaflur | Experimental | Phase 4 | | 6818-37-7 | |
| 10 | | Tocotrienol | Investigational | Phase 4 | | 6829-55-6 | 9929901 |
| 11 | | Vitamin K 1 | | Phase 4 | | | |
| 12 | | Fluorides, Topical | | Phase 4 | | | |
| 13 | | Anti-Infective Agents | | Phase 4 | | | |
| 14 | | Fluorides | | Phase 4 | | | |
| 15 | | Anti-Infective Agents, Local | | Phase 4 | | | |
| 16 | | Aloe | | Phase 4 | | | |
| 17 | | Antioxidants | | Phase 4 | | | |
| 18 | | Tocotrienols | | Phase 4 | | | |
| 19 | | Tocopherols | | Phase 4 | | | |
| 20 | | Anti-Retroviral Agents | | Phase 4 | | | |
| 21 | | Antiviral Agents | | Phase 4 | | | |
| 22 | | Anti-HIV Agents | | Phase 4 | | | |
| 23 | | Reverse Transcriptase Inhibitors | | Phase 4 | | | |
| 24 | | Minocycline | Approved, Investigational | Phase 3 | | 10118-90-8, 13614-98-7 | 54675783 5281021 |
| 25 | | Afamelanotide | Approved, Investigational | Phase 3 | | 75921-69-6 | 16132954 16197727 |
| 26 | | Erythromycin | Approved, Investigational, Vet_approved | Phase 3 | | 114-07-8 | 12560 |
| 27 | | Fusidic acid | Approved, Investigational | Phase 3 | | 6990-06-3 | 3000226 |
| 28 | | Prednisolone phosphate | Approved, Vet_approved | Phase 3 | | 302-25-0 | |
| 29 | | Prednisolone acetate | Approved, Vet_approved | Phase 3 | | 52-21-1 | |
| 30 | | Prednisolone | Approved, Vet_approved | Phase 3 | | 50-24-8 | 4894 5755 |
| 31 | | Methylprednisolone hemisuccinate | Approved | Phase 3 | | 2921-57-5 | 1875 |
| 32 | | Methylprednisolone | Approved, Vet_approved | Phase 3 | | 83-43-2 | 4159 6741 |
| 33 | | Coconut | Approved | Phase 3 | | | |
| 34 | | Histamine | Approved, Investigational | Phase 3 | | 51-45-6 | 774 |
| 35 | | Betamethasone | Approved, Vet_approved | Phase 3 | | 378-44-9 | 9782 |
| 36 | | Desloratadine | Approved, Investigational | Phase 3 | | 100643-71-8 | 124087 |
| 37 | | Cholecalciferol | Approved, Nutraceutical, Vet_approved | Phase 3 | | 67-97-0, 1406-16-2 | 5280795 10883523 |
| 38 | | Prednisolone hemisuccinate | Experimental | Phase 3 | | 2920-86-7 | 4897 |
| 39 | | Maleic acid | Experimental, Investigational | Phase 3 | | 110-16-7, 110-17-8 | 444266 444972 |
| 40 | | Dexchlorpheniramine | Experimental, Investigational | Phase 3 | | 25523-97-1 | 33036 |
| 41 | | Anti-Bacterial Agents | | Phase 3 | | | |
| 42 | | Antibiotics, Antitubercular | | Phase 3 | | | |
| 43 | | Gastrointestinal Agents | | Phase 3 | | | |
| 44 | | Protein Kinase Inhibitors | | Phase 3 | | | |
| 45 | | Provitamins | | Phase 3 | | | |
| 46 | | Erythromycin stearate | | Phase 3 | | | |
| 47 | | Erythromycin Ethylsuccinate | | Phase 3 | | | |
| 48 | | Erythromycin Estolate | | Phase 3 | | | |
| 49 | | Antineoplastic Agents, Hormonal | | Phase 3 | | | |
| 50 | | Hormones | | Phase 3 | | | |
Interventional clinical trials:
(show top 50)
(show all 116)
| # | Name | Status | NCT ID | Phase | Drugs |
| --- | --- | --- | --- | --- | --- |
| 1 | Non-randomized Phase-IV-study to Investigate the Efficacy of FOLFIRI in Combination With Cetuximab in the First-line Treatment of Metastatic Colorectal Cancer Including a Regular Dermal Prophylaxis to Prevent Acneiforme Follicular Exanthema | Unknown status | NCT01315990 | Phase 4 | FOLFIRI + Cetuximab |
| 2 | Esthetic Effect of Casein Phosphopeptide-Amorphous Calcium Phosphate Varnish Versus Tricalcium Phosphate Varnish on Postorthodontic White Spot Lesions: A Randomized Pilot Study | Unknown status | NCT03217084 | Phase 4 | MI varnish GC;White varnish 3M |
| 3 | White Spot Lesion Development in Post-orthodontic Patients Following Weekly Application of a 1.25% Fluoride Gel Compared to Placebo Over 6 Months | Completed | NCT01329731 | Phase 4 | elmex® gelée;negative control (placebo) |
| 4 | Prospective 2-Year Longitudinal Study to Assess for Miconazole Resistance in Candida Spp. With Repeated Treatment Courses of 0.25% Miconazole Nitrate Ointment in Neonates and Infants up to 1 Year of Age With Recurrent Moderate-Severe Diaper Dermatitis Complicated by Cutaneous Candidiasis | Completed | NCT00702507 | Phase 4 | 0.25 % Miconazole Nitrate Ointment |
| 5 | Randomized Controlled Trial Comparing the Efficacy and Safety of Calmoseptine Ointment and Desitin Maximum Strength 40% Zinc Oxide Diaper Rash Paste in Diaper Dermatitis in Neonates and Infants | Completed | NCT02716415 | Phase 4 | Calmoseptine Ointment;Destin Maximum Strength 40% Zinc |
| 6 | A Parallel, Evaluator-Blind, Randomized Clinical Trial to Evaluate the Efficacy and Safety of Two Marketed Topical Skin Protectants Containing Zinc Oxide in Children With Diaper Rash | Completed | NCT00219466 | Phase 4 | |
| 7 | A Multi-center, Double-blinded Randomized Trial for Genotype Based Personalized Prescription of Nevirapine | Completed | NCT00986063 | Phase 4 | |
| 8 | A Multicenter, Randomized, Open-label, Controlled Study of Nevirapine (VIRAMUNE®) and a Short Course of Prednisone to Determine the Safety and Effectiveness of This Strategy in Preventing Nevirapine (VIRAMUNE®) Associated Rash. | Completed | NCT02184299 | Phase 4 | Nevirapine;Prednisone |
| 9 | A Randomized Control Trial to Compare Doxycycline to Isotretinoin for the Treatment of Acneiform Eruptions in Cancer Patients on Tyrosine Kinase Inhibitors | Recruiting | NCT04864717 | Phase 4 | Doxycycline 100mg po once daily x 6 months;Isotretinoin 40 mg po once daily x 6 months |
| 10 | The Healthy Baby Bottoms Study: A Trial of Theraworx Foam Formulation for the Prevention and Treatment of Diaper Dermatitis | Terminated | NCT04101890 | Phase 4 | Diaper care with Theraworx |
| 11 | Pilot Study of Acitretin for Treatment of Erlotinib-induced Skin Rash | Withdrawn | NCT01299220 | Phase 4 | Acitretin |
| 12 | A Clinical Observation to Assess the Safety and Consumers' Satisfaction of Moussik vs Desitin Creamy Ointment in Prophylaxis of Diaper Rash. A Single Blind, Multicenter, Randomized, Cross-over Study | Withdrawn | NCT01167465 | Phase 4 | |
| 13 | A Phase III, Randomised, Double Blind, Placebo Controlled, Parallel Group Study, to Evaluate the Safety and Efficacy of Subcutaneous Implants of Afamelanotide (16 mg) in Patients Suffering From Polymorphic Light Eruption (PLE) | Completed | NCT04704713 | Phase 3 | Afamelanotide;Placebo |
| 14 | Effectiveness of Novel Bioactive Glass in the Treatment of Enamel White Spot Lesions : A Randomized Controlled Trial | Completed | NCT04401280 | Phase 3 | BiominF;Novamin;CPP-ACP |
| 15 | A Phase III, Randomized, Double-Blind, Placebo-Controlled Trial of Prophylactic Topical Sunscreen to Prevent Erlotinib- or Cetuximab-Induced Skin Rash [or Other Epidermal Growth Factor Receptor (EGFR) Inhibitor-Induced Skin Rash] | Completed | NCT00362986 | Phase 3 | sunscreen |
| 16 | Phase III Randomized Double-Blind Trial of Bepanthen® Cream Versus Cetomacrogol Cream in the Prevention of Papulopustular Eruption in Patients Receiving Epidermal Growth Factor Receptor Inhibitors (EGFRI): BeCet | Completed | NCT01136005 | Phase 3 | |
| 17 | A Phase III Randomized Double-blind Study of Prophylactic Topical Dapsone 5% Gel Versus Moisturizer for Cetuximab-induced Papulopustular (Acneiform) Rash in Patients With mCRC or HNSCC Without Previous or Concurrent RT | Completed | NCT01931150 | Phase 3 | Topical Dapsone 5% Gel;oral antibiotics |
| 18 | A Randomized, Open Label Study to Compare the Use of the Dermatological Creams Verutex, Eritex and Fisiogel in the Management of Skin Rash Associated With Tarceva Treatment in Patients With Locally Advanced or Metastatic Non-small Cell Lung Cancer. | Completed | NCT00718315 | Phase 3 | erlotinib [Tarceva];fusidic acid [Verutex];erythromycin [Eritex];Fisiogel |
| 19 | A Randomized Controlled Clinical Study Comparing the Efficacy and Safety of Calmoseptine vs Destin Maximum Strength Diaper Rash Paste in Treatment of Incontinence Associated Dermatitis in Older Children and Adults | Completed | NCT02080247 | Phase 3 | Skin care regimen with Calmoseptine ointment;Skin care regimen with Destin ointment |
| 20 | A Randomized, Double-blind, Prospective Trial of Prophylactic EVOZAC® Calming Skin Spray for EGFR-TKIs Associated Rash Eruption in Non-small Cell Lung Cancer | Completed | NCT01528488 | Phase 2, Phase 3 | |
| 21 | Vitamin D3 Supplementation in Polymorphic Light Eruption: Randomized Double-blinded Placebo-controlled Trial | Terminated | NCT01595893 | Phase 3 | Oral Vitamin D 3;Miglyol 812 N |
| 22 | A Double-blind, Randomized, Multicenter Parallel-group Study on Efficacy of Desloratadine and Prednisolone Association Compared to Dexchlorpheniramine and Betamethasone Association in Children (2-12 Years) With Acute Cutaneous Rash | Terminated | NCT01529242 | Phase 3 | Desloratadine + Prednisolone;Dexchlorpheniramine + Betamethasone |
| 23 | Protocol Establishment for the Prevention of Lamotrigine-induced Skin Rash in Epilepsy Patients: A Pilot Study | Unknown status | NCT03220256 | Phase 2 | Lamotrigine |
| 24 | Caries Prevention Potential of Pearl Powder Versus Casein Phosphopeptide-amorphous Calcium Phosphate on Enamel White Spot Lesions: Randomized Clinical Trial. | Unknown status | NCT03973554 | Phase 2 | CPP-ACP |
| 25 | A Phase II Randomized, Double Blind, Placebo Study to Evaluate the Efficacy of Vitamin K1 Cream Treatment Compared to Placebo for the Prevention of Papulo-pustular Rash in Metastatic Colorectal Patients Receiving First Line EGFRI Treatment. | Unknown status | NCT01763307 | Phase 2 | RECONVAL CREAM;PLACEBO |
| 26 | Phase II Study to Evaluatate the Efficacy of Gemcitabine Plus Erlotinib for RASH-positive Patients With Metastatic Pancreatic Cancer and Friendly Risk Circumstances | Unknown status | NCT01729481 | Phase 2 | Gemcitabine;Erlotinib;Oxaliplatin;Folinic Acid;Irinotecan;5-FU |
| 27 | Preemptive Therapy Study of Cetuximab(Erbitux®)Induced Skin Rash Using Doxycycline, Sunscreen, Hydrocortisone and Moisturizer in Colorectal and Head and Neck Cancer Patients | Completed | NCT01874860 | Phase 2 | Doxycycline;Hydrocortisone 1% cream;Clindamycin;Medrol-dose pack (Steroid) |
| 28 | Phase II, Open-label, Single Blind, Randomised Clinical Trial With Tetracycline as a Prophylaxis for Rash and Dermatological Recommendations Versus Dermatological Recommendations in Patients With NSCLC Receiving Treatment With BIBW 2992 | Completed | NCT01880515 | Phase 2 | Tetracycline |
| 29 | A Randomized, Double-blind, Placebo-controlled Trial of AC-701 for Treatment of Skin Rash in Subjects With EGFR Inhibitor Therapy | Completed | NCT04239846 | Phase 2 | AC-701 Topical Gel 0.3% |
| 30 | A Phase 2, Open-label, Randomized Clinical Trial of Skin Toxicity Treatment in Subjects Receiving Second-line FOLFIRI or Irinotecan Only Chemotherapy Concomitantly With Panitumumab | Completed | NCT00332163 | Phase 2 | Irinotecan;FOLFIRI;Pre-emptive Skin Treatment;Reactive Skin Treatment |
| 31 | Double Blind Placebo Controlled Trial, for Evaluating Preventive Therapy With Either Oint Threolone Versus Synthomycine Versus Aqua Cream, for EGFR'I Induced Acneiform Rash | Completed | NCT01256437 | Phase 2 | Threolone ointment;ointment Synthomycine;Aqua cream |
| 32 | Management of Imatinib-associated Severe Skin Rash in Patients With Gastrointestinal Stromal Tumor | Completed | NCT03440515 | Phase 2 | Prednisone |
| 33 | A Randomized Controlled Trial of Systemic and Topical Treatments for Rash Secondary to Erlotinib in Advanced Stage IIIB or IV Non-Small Cell Lung Cancer | Completed | NCT00473083 | Phase 2 | Minocycline;Clindamycin 2% in hydrocortisone 1% lotion;Erlotinib;Topical clindamycin 2%, triamcinolone acetonide 0.1% soln |
| 34 | A Safety, Tolerability and Efficacy Study of Doxycycline Topical Foam Administered Topically for Prevention of Epidermal Growth Factor Receptor Inhibition Skin Toxicity, to Subjects With Cancer Receiving Cetuximab or Panitumumab | Completed | NCT02239731 | Phase 2 | FDX104 (4% Doxycycline) |
| 35 | A Two-Part, Phase II Randomized Trial to Explore Topical Spironolactone to Prevent/Attenuate Rash From Epidermal Growth Factor Receptor Inhibitors (Panitumumab and Cetuximab) in Advanced Cancer Patients | Completed | NCT01867294 | Phase 2 | Doxycycline;Spironolactone;Sunscreen;Therapeutic Hydrocortisone |
| 36 | A Randomized, Open-label, Dose-escalation to Rash Study to Assess the Effect of Tarceva in Combination With Gemcitabine on Overall Survival in Patients With Metastatic Pancreatic Cancer. | Completed | NCT00652366 | Phase 2 | Erlotinib, escalating dose;Erlotinib, standard dose;Gemcitabine |
| 37 | A Randomized, Open Label Study to Evaluate the Effect of Doxycycline on Tarceva-induced Skin Rash in Patients With Non-small Cell Lung Cancer After Failure of First Line Chemotherapy | Completed | NCT00531934 | Phase 2 | Doxycline;erlotinib [Tarceva] |
| 38 | A Phase II Trial Assessing Metronidazol Actavis 1% Topical Cream in the Prevention and Treatment of Erlotinib Associated Rash | Completed | NCT00642473 | Phase 2 | Erlotinib;Metronidazole Actavis |
| 39 | An Open Label Study of Tarceva in Combination With Gemcitabine in Unresectable and/or Metastatic Cancer of the Pancreas : Relationship Between Skin Rash and Survival | Completed | NCT00461708 | Phase 2 | Erlotinib;Gemcitabine |
| 40 | A Multi-Center Study Investigating the Correlation Between TARCEVA ®-Induced Rash and Efficacy Among EGFR-mutated NSCLC Patients Receiving First-line Therapy | Completed | NCT01174563 | Phase 2 | erlotinib [Tarceva] |
| 41 | A Randomized Phase II Study of Topical Steroids as Preemptive Therapy for Epidermal Growth Factor Receptor Inhibitor-Induced Papulopustular Eruption | Recruiting | NCT03115567 | Phase 2 | Triamcinolone |
| 42 | A Multi-center, Randomized, Double-blind, Placebo-controlled, Therapeutic Exploratory, Phase II Clinical Trial for the Efficacy Investigation and Safety Evaluation of DWP708 | Recruiting | NCT05378360 | Phase 2 | |
| 43 | An Open-label Study for Assessing the Efficacy and Safety of Nicotinamide Treatment for Lupus-associated Skin Lesions in Patients With Cutaneous Lupus Erythematosus or Systemic Lupus Erythematosus | Active, not recruiting | NCT03260166 | Phase 2 | nicotinamide |
| 44 | A Phase 1b/2a, Multicenter, Randomized, Double-Blind, Placebo-Controlled Study to Evaluate the Safety of ATR-04 to Reduce the Severity of Epidermal Growth Factor Inhibitor Associated Papulopustular Rash | Suspended | NCT04731259 | Phase 1, Phase 2 | ATR-04 |
| 45 | 1% Topical Pimecrolimus Cream for the Prevention of Rash Associated With the Use of the EGFR Antagonist, Cetuximab | Terminated | NCT01692626 | Phase 2 | Pimecrolimus;Placebo |
| 46 | Four-arm Study to Evaluate Urea 40% Cream, Fluocinonide 0.05% Cream, Tazarotene 0.1% Cream, and an Emollient Cream for the Treatment of Hand-foot Skin Reaction Related to the Use of Multi-targeted Tyrosine Kinase Inhibitor Sorafenib. | Terminated | NCT00667589 | Phase 2 | urea 40% cream;fluocinonide 0.05% cream;tazarotene 0.1% cream;bland emollient cream (Udderly smooth® Udder Cream) |
| 47 | A Phase II, Randomized, Double-Blind, Parallel Design Study to Evaluate ACZONE™ (Dapsone) Gel, 5% As a Treatment For Rash Related to the Human Epidermal Growth Factor Receptor 1 (HER1)/Epidermal-Growth-Factor-Receptor (EGFR) Inhibitor Tarceva® (Erlotinib) | Terminated | NCT00343187 | Phase 2 | ACZONE (dapsone) Gel, 5%;Vehicle Control |
| 48 | A Phase 2a, Randomized, Double-Blind, Placebo-Controlled Study to Evaluate the Efficacy and Safety of ANB019 in the Treatment of Acneiform Rash in Subjects With Cancer Receiving EGFRi or MEKi Therapy | Terminated | NCT04697069 | Phase 2 | |
| 49 | A Phase II Trial of Single-agent Cetuximab Dose Escalated to Rash in Patients With Persistent or Recurrent Epithelial Ovarian or Primary Peritoneal Carcinoma | Terminated | NCT00082212 | Phase 2 | |
| 50 | A Phase 1, Multi-center, Randomized, Double-Blind, Placebo Controlled Study of the Safety, Tolerability, and Systemic Absorption of Menadione Topical Lotion as an Emergent and Pre-emergent Treatment for Epidermal-Growth-Factor-Receptor (EGFR) Inhibitor-Associated Rash | Completed | NCT00656786 | Phase 1 | Menadione Topical Lotion |
Cochrane evidence based reviews: exanthema
Genetic Tests for Exanthem
Anatomical Context for Exanthem
Organs/tissues related to Exanthem:
MalaCards

:
Skin,
Lung,
Bone Marrow,
Breast,
T Cells,
Liver,
Myeloid
Publications for Exanthem
Articles related to Exanthem:
(show top 50)
(show all 30820)
| # | Title | Authors | PMID | Year |
| --- | --- | --- | --- | --- |
| 1 | Paraneoplastic Anti-Tif1-gamma Autoantibody-positive Dermatomyositis as Clinical Presentation of Hepatocellular Carcinoma Recurrence. 62 | | 36406323 | 2023 |
| 2 | Liver protection and hemostatic effects of medicinal plant Arnebia euchroma (Royle) I.M.Johnst extract in a rat model. 62 | | 36126784 | 2023 |
| 3 | A Guide to Preclinical Models of Zoster-Associated Pain and Postherpetic Neuralgia. 62 | Warner BE...Kinchington PR | 34524508 | 2023 |
| 4 | Simian Varicella Virus: Molecular Virology and Mechanisms of Pathogenesis. 62 | | 34669041 | 2023 |
| 5 | Pertuzumab study in the neoadjuvant setting for HER2-positive nonmetastatic breast cancer in Australia (PeRSIA). 62 | | 36005450 | 2023 |
| 6 | Ischemic stroke is a potential complication of uncontrolled inflammation in mevalonate kinase deficiency - A case report. 62 | | 36242899 | 2022 |
| 7 | A case of herpes zoster ophthalmicus with optic neuritis of the total length of the optic nerve in the orbital space and ischemic optic neuropathy. 62 | | 36467120 | 2022 |
| 8 | First-in-maintenance therapy for localized high-grade osteosarcoma: an open-label phase I/II trial of the anti-PD-L1 antibody ZKAB001. 62 | | 36469563 | 2022 |
| 9 | Trientine tetrahydrochloride versus penicillamine for maintenance therapy in Wilson disease (CHELATE): a randomised, open-label, non-inferiority, phase 3 trial. 62 | Schilsky ML...CHELATE trial investigators | 36183738 | 2022 |
| 10 | Real-life efficacy and safety of elexacaftor/tezacaftor/ivacaftor on severe cystic fibrosis lung disease patients. 62 | Kos R...Amsterdam Mucociliary Clearance Disease (AMCD) Research Group | 36440690 | 2022 |
| 11 | Zandelisib (ME-401) in Japanese patients with relapsed or refractory indolent non-Hodgkin's lymphoma: an open-label, multicenter, dose-escalation phase 1 study. 62 | | 36107394 | 2022 |
| 12 | Efficacy and safety profile of selumetinib in symptomatic inoperable plexiform neurofibromas. 62 | | 35301838 | 2022 |
| 13 | Cutaneous manifestations of SARS-CoV-2 infection during the Delta and Omicron waves in 348 691 UK users of the UK ZOE COVID Study app. 62 | | 35869671 | 2022 |
| 14 | Pityriasis rubra pilaris with erythema gyratum repens-like eruption and resolution with ustekinumab. 62 | | 35978553 | 2022 |
| 15 | [Clinical analysis of 49 cases of non-inflammasome related conditions]. 62 | | 36444428 | 2022 |
| 16 | Clinical associations and classification of immune checkpoint inhibitor-induced cutaneous toxicities: a multicentre study from the European Academy of Dermatology and Venereology Task Force of Dermatology for Cancer Patients. 62 | | 35861701 | 2022 |
| 17 | PD-1 inhibitors plus chemotherapy in EGFR/ALK-positive NSCLC patients with brain metastases and disease progression after EGFR/ALK-TKIs therapy. 62 | | 35857126 | 2022 |
| 18 | Osimertinib in the Treatment of EGFR Mutation-Positive Advanced Non-Small Cell Lung Cancer: A Meta-Analysis. 62 | | 36470213 | 2022 |
| 19 | Use of oral fluid samples for the investigation of outbreaks of human parvovirus B19 infection. 62 | Almada DL...Cubel Garcia RCN | 36149627 | 2022 |
| 20 | A phase I study of avelumab, palbociclib, and cetuximab in patients with recurrent or metastatic head and neck squamous cell carcinoma. 62 | | 36279618 | 2022 |
| 21 | The clinical features of juvenile dermatomyositis: A single-centre inception cohort. 62 | | 36183479 | 2022 |
| 22 | Life-threatening chlorpromazine-induced acquired haemophilia A in a patient with a cavernous malformation involving the medulla oblongata. 62 | | 36075795 | 2022 |
| 23 | CD25-targeted antibody-drug conjugate camidanlumab tesirine for relapsed or refractory classical Hodgkin lymphoma. 62 | | 36074313 | 2022 |
| 24 | Surveillance on the adverse events following immunization with the pentavalent vaccine in Zhejiang, China. 62 | | 35108152 | 2022 |
| 25 | Residual disease activity and treatment intensification in systemic lupus erythematosus: A cross-sectional study to quantify the need for new therapies. 62 | | 36169280 | 2022 |
| 26 | A Boy Presenting with a Fever and Pancytopenia Diagnosed with Systemic Lupus Erythematosus without a Positive Anti-ds-DNA Antibody Result or Hypocomplementemia: A Case Report. 62 | | 36420549 | 2022 |
| 27 | First Report of Symmetrical Drug-related Intertriginous and Flexural Exanthema (SDRIFE or Baboon Syndrome) After Erenumab Application for Migraine Prevention. 62 | | 35908264 | 2022 |
| 28 | A Diagnostic Prediction Model for Separating Juvenile Idiopathic Arthritis and Chronic Musculoskeletal Pain Syndrome. 62 | van Straalen JW...Swart JF | 35460700 | 2022 |
| 29 | A Case of Orbital Apex Syndrome as a Complication of Herpes Zoster Ophthalmicus. 62 | | 36413452 | 2022 |
| 30 | Dermatologic adverse events associated with IDH inhibitors ivosidenib and enasidenib for the treatment of acute myeloid leukemia. 62 | | 36308802 | 2022 |
| 31 | Multicentre observational study on multisystem inflammatory syndrome related to COVID-19 in Argentina. 62 | Vainstein E...EMSKC group | 36464947 | 2022 |
| 32 | A phase II study of sapanisertib (TAK-228) a mTORC1/2 inhibitor in rapalog-resistant advanced pancreatic neuroendocrine tumors (PNET): ECOG-ACRIN EA2161. 62 | | 36264382 | 2022 |
| 33 | [A monogenic lupus family caused by homozygous deletions of DNASE1L3 gene and literature review]. 62 | | 36444430 | 2022 |
| 34 | Severe Acute Respiratory Syndrome Coronavirus 2-Associated Blepharoconjunctivitis and Erythema Multiforme-Like Rash in a Young Man. 62 | | 36198619 | 2022 |
| 35 | A case of erythema multiforme-like rash induced by everolimus in a patient with a pancreatic neuroendocrine tumor. 62 | | 36264476 | 2022 |
| 36 | The mixed spongiotic and interface reaction pattern: A study of clinical and histopathologic findings. 62 | | 36445270 | 2022 |
| 37 | Varicella Vaccine-Induced Infantile Zoster-Like Skin Rash. 62 | | 36027973 | 2022 |
| 38 | Purpuric Vesiculobullous Rash in IgA Vasculitis (IgAV). 62 | | 35970238 | 2022 |
| 39 | Persistent Rash After COVID-19 Vaccination: Challenge. 62 | | 36395458 | 2022 |
| 40 | Persistent Rash After COVID-19 Vaccination: Answer. 62 | | 36395456 | 2022 |
| 41 | A patient with a corticosteroid-resistant pruritic rash. 62 | | 36468817 | 2022 |
| 42 | Rash and mucositis. 62 | | 36468504 | 2022 |
| 43 | Prevention and management of acneiform rash associated with EGFR inhibitor therapy: A systematic review and meta-analysis. 62 | | 35352492 | 2022 |
| 44 | Perforating Calcinosis Cutis as a Complication of Intraosseous Fluid Infusion in the Setting of a Near-Drowning Event. 62 | Marinelli LM...Wohltmann WE | 36461682 | 2022 |
| 45 | Hyperkeratotic flexural erythema (more commonly known as granular parakeratosis) with use of laundry sanitizers containing benzalkonium chloride. 62 | | 36164686 | 2022 |
| 46 | Clinical analysis of 99 children with Henoch-Schönlein purpura complicated with overt gastrointestinal bleeding. 62 | | 35941339 | 2022 |
| 47 | A case report of monkeypox as a result of conflict in the context of a measles campaign. 62 | | 36133748 | 2022 |
| 48 | Engraftment syndrome following Hematopoietic stem cell transplantation: a systematic approach toward diagnosis and management. 62 | | 36460884 | 2022 |
| 49 | Anti-MDA5 and anti-SSA/Ro52 antibodies double-positive dermatomyositis overlapping with rheumatoid arthritis-associated interstitial lung disease: A case report. 62 | | 36029141 | 2022 |
| 50 | Immune-Related Toxicity Among Adolescent and Young Adult with Melanoma as Compared with the Elderly. 62 | | 35100046 | 2022 |
Variations for Exanthem
Pathways for Exanthem
Pathways related to Exanthem according to GeneCards Suite gene sharing:
(show all 36)
GO Terms for Exanthem
Cellular components related to Exanthem according to GeneCards Suite gene sharing:
Biological processes related to Exanthem according to GeneCards Suite gene sharing:
Sources for Exanthem