Glioblastoma

(

GBM

)

Categories

: Cancer diseases, Neuronal diseases, Rare diseases

Data Licensing

For inquiries, contact:
Aliases & Classifications for Glioblastoma
MalaCards integrated aliases for Glioblastoma:
Adult Glioblastoma Multiforme

11

Spongioblastoma Multiforme

11
Characteristics:
Inheritance:
Multigenic/multifactorial
58
Classifications:
ICD10: 32

Orphanet:
58
Rare neurological diseases
Summaries for Glioblastoma
GARD: 19 Glioblastoma is a malignant (cancerous) brain tumor that develops from a specific type of brain cell called an astrocyte. These cells help support and nourish neurons (nerve cells of the brain) and form scar tissue that helps repair brain damage in response to injury. Glioblastomas are often very aggressive and grow into surrounding brain tissue. Signs and symptoms, such as headache, nausea, vomiting and/or drowsiness, may develop when the tumor begins to put excess pressure on the brain. Affected people may also experience other features depending on the size and location of the tumor. In most cases, the exact underlying cause is unknown; however, they can rarely occur in people with certain genetic syndromes such as neurofibromatosis type 1, Turcot syndrome and Li Fraumeni syndrome.
MalaCards based summary: Glioblastoma, also known as glioblastoma multiforme, is related to brain cancer and glioma, and has symptoms including headache and seizures. An important gene associated with Glioblastoma is MIR21 (MicroRNA 21), and among its related pathways/superpathways is miRNAs involved in DNA damage response. The drugs Trametinib and Dabrafenib have been mentioned in the context of this disorder. Affiliated tissues include brain, t cells and eye, and related phenotypes are glioblastoma multiforme and abnormal cell morphology
Disease Ontology: 11 A malignant astrocytoma characterized by the presence of small areas of necrotizing tissue that is surrounded by anaplastic cells as well as the presence of hyperplastic blood vessels, and that has material basis in abnormally proliferating cells derives from multiple cell types including astrocytes and oligondroctyes.
Orphanet: 58 Glioblastomas are malignant astrocytic tumors (grade IV according to the WHO classification).
Wikipedia: 75 Glioblastoma, previously known as glioblastoma multiforme (GBM), is one of the most aggressive types of... more...
Related Diseases for Glioblastoma
Diseases related to Glioblastoma via text searches within MalaCards or GeneCards Suite gene sharing:
(show top 50)
(show all 1259)
Graphical network of the top 20 diseases related to Glioblastoma: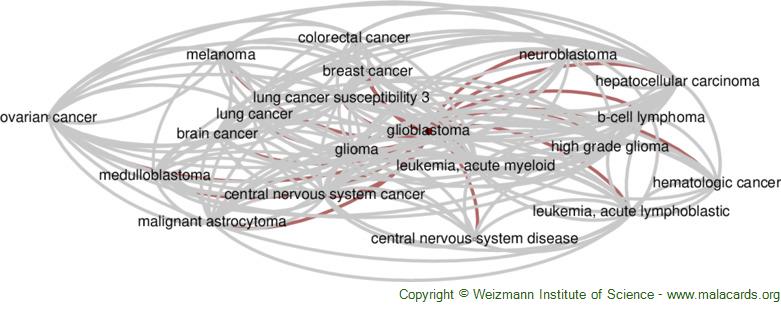 Symptoms & Phenotypes for Glioblastoma
Human phenotypes related to Glioblastoma:
30
58
(show all 17)
| # | Description | HPO Frequency | Orphanet Frequency | HPO Source Accession |
| --- | --- | --- | --- | --- |
| 1 | glioblastoma multiforme 30 | Obligate (100%) | | HP:0012174 |
| 2 | abnormal cell morphology 58 30 | Hallmark (90%) | Very frequent (99-80%) | HP:0025461 |
| 3 | muscle weakness 58 30 | Frequent (33%) | Frequent (79-30%) | HP:0001324 |
| 4 | fatigue 58 30 | Frequent (33%) | Frequent (79-30%) | HP:0012378 |
| 5 | headache 58 30 | Frequent (33%) | Frequent (79-30%) | HP:0002315 |
| 6 | visual loss 58 30 | Frequent (33%) | Frequent (79-30%) | HP:0000572 |
| 7 | abnormal corpus callosum morphology 58 30 | Frequent (33%) | Frequent (79-30%) | HP:0001273 |
| 8 | language impairment 58 30 | Frequent (33%) | Frequent (79-30%) | HP:0002463 |
| 9 | paralysis 58 30 | Frequent (33%) | Frequent (79-30%) | HP:0003470 |
| 10 | cerebral edema 58 30 | Frequent (33%) | Frequent (79-30%) | HP:0002181 |
| 11 | emotional lability 30 | Frequent (33%) | | HP:0000712 |
| 12 | seizure 58 30 | Occasional (7.5%) | Occasional (29-5%) | HP:0001250 |
| 13 | memory impairment 58 30 | Occasional (7.5%) | Occasional (29-5%) | HP:0002354 |
| 14 | abnormal cerebral white matter morphology 58 | | Frequent (79-30%) | |
| 15 | abnormality of nervous system physiology 58 | | Frequent (79-30%) | |
| 16 | mood changes 58 | | Frequent (79-30%) | |
| 17 | glioblastoma 58 | | Obligate (100%) | |
UMLS symptoms related to Glioblastoma:
headache;
seizures
Drugs & Therapeutics for Glioblastoma
Drugs for Glioblastoma (from DrugBank, HMDB, Dgidb, PharmGKB, IUPHAR, NovoSeek, BitterDB):
(show top 50)
(show all 521)
| | | | | | | | |
| --- | --- | --- | --- | --- | --- | --- | --- |
| # | | Name | Status | Phase | Clinical Trials | Cas Number | PubChem Id |
| 1 | | Trametinib | Approved | Phase 4 | | 871700-17-3 | 11707110 |
| 2 | | Dabrafenib | Approved, Investigational | Phase 4 | | 1195765-45-7 | 44462760 |
| 3 | | Benzocaine | Approved, Investigational | Phase 4 | | 1994-09-7, 94-09-7 | 2337 |
| 4 | | Tannic acid | Approved | Phase 4 | | 1401-55-4 | 16129878 16129778 |
| 5 | | Aminolevulinic acid | Approved | Phase 3 | | 106-60-5 | 137 |
| 6 | | Citalopram | Approved | Phase 2, Phase 3 | | 59729-32-7, 59729-33-8 | 2771 |
| 7 | | Meloxicam | Approved, Vet_approved | Phase 2, Phase 3 | | 71125-38-7 | 54677470 5281106 |
| 8 | | Leflunomide | Approved, Investigational | Phase 3 | | 75706-12-6 | 3899 |
| 9 | | Hydroxyurea | Approved | Phase 3 | | 127-07-1 | 3657 |
| 10 | | Lomustine | Approved, Investigational | Phase 2, Phase 3 | | 13010-47-4 | 3950 |
| 11 | | Hydroxychloroquine | Approved | Phase 2, Phase 3 | | 118-42-3 | 3652 |
| 12 | | Tofacitinib | Approved, Investigational | Phase 3 | | 477600-75-2 | 9926791 |
| 13 | | Etoposide | Approved | Phase 3 | | 33419-42-0 | 36462 |
| 14 | | Vincristine | Approved, Investigational | Phase 3 | | 2068-78-2, 57-22-7 | 5978 |
| 15 | | Procarbazine | Approved, Investigational | Phase 3 | | 671-16-9 | 4915 |
| 16 | | Carboplatin | Approved | Phase 3 | | 41575-94-4 | 10339178 38904 |
| 17 | | Dopamine | Approved | Phase 3 | | 62-31-7, 51-61-6 | 681 |
| 18 | | Fluorouracil | Approved | Phase 2, Phase 3 | | 51-21-8 | 3385 |
| 19 | | Duloxetine | Approved | Phase 3 | | 136434-34-9, 116539-59-4 | 60835 |
| 20 | | Norepinephrine | Approved | Phase 3 | | 51-41-2 | 439260 |
| 21 | | Ascorbic acid | Approved, Nutraceutical | Phase 3 | | 50-81-7 | 54676860 54670067 5785 |
| 22 | | Vitamin A | Approved, Nutraceutical, Vet_approved | Phase 3 | | 22737-96-8, 68-26-8 | 5280382 445354 |
| 23 | | Dexetimide | Withdrawn | Phase 2, Phase 3 | | 21888-98-2 | 30843 |
| 24 | | Rindopepimut | Investigational | Phase 3 | | 1108208-65-6 | |
| 25 | | Nimotuzumab | Investigational | Phase 3 | | 780758-10-3 | |
| 26 | | Semustine | Experimental, Investigational | Phase 3 | | 13909-09-6 | 5198 |
| 27 | | Veliparib | Investigational | Phase 2, Phase 3 | | 912444-00-9 | 11960529 |
| 28 | | Dianhydrogalactitol | Investigational | Phase 3 | | 23261-20-3 | |
| 29 | | Trabedersen | Investigational | Phase 3 | | 925681-61-4 | |
| 30 | | Interferon-alpha | | Phase 3 | | | |
| 31 | | Imatinib Mesylate | | Phase 3 | | 220127-57-1 | |
| 32 | | GDC-0084 | | Phase 2, Phase 3 | | | |
| 33 | | Poly(ADP-ribose) Polymerase Inhibitors | | Phase 2, Phase 3 | | | |
| 34 | | Etoposide phosphate | | Phase 3 | | | 16760419 |
| 35 | | Retinol palmitate | | Phase 3 | | | |
| 36 | | Protective Agents | | Phase 3 | | | |
| 37 | | Vitamins | | Phase 3 | | | |
| 38 | | Mitogens | | Phase 3 | | | |
| 39 | | Pharmaceutical Solutions | | Phase 3 | | | |
| 40 | | Dopamine Agents | | Phase 3 | | | |
| 41 | | Antioxidants | | Phase 3 | | | |
| 42 | | Analgesics | | Phase 3 | | | |
| 43 | | Trace Elements | | Phase 3 | | | |
| 44 | | Micronutrients | | Phase 3 | | | |
| 45 | | Immunoconjugates | | Phase 3 | | | |
| 46 | | Antidepressive Agents | | Phase 3 | | | |
| 47 | | Vasoconstrictor Agents | | Phase 3 | | | |
| 48 | | Ophthalmic Solutions | | Phase 3 | | | |
| 49 | | Trans-sodium crocetinate | | Phase 3 | | | |
| 50 | | Serotonin and Noradrenaline Reuptake Inhibitors | | Phase 3 | | | |
Interventional clinical trials:
(show top 50)
(show all 1528)
| # | Name | Status | NCT ID | Phase | Drugs |
| --- | --- | --- | --- | --- | --- |
| 1 | A Clinical Study of Standard TEMODAL® Regimen Versus Standard Regimen Plus Early Post-Surgery TEMODAL® Chemotherapy in Treatment on Patients With Newly Diagnosed Glioblastoma Multiforme (GBM) | Completed | NCT00686725 | Phase 4 | Temozolomide |
| 2 | Pilot Study of Resection and GammaTile Followed by Concomitant External Beam Radiation Therapy (EBRT) and Temozolomide (TMZ) and Adjuvant in Newly Diagnosed Glioblastoma (GBM) | Recruiting | NCT05342883 | Phase 4 | |
| 3 | An Open Label, Multi-center Roll-over Study to Assess Long-term Effect in Pediatric Patients Treated With Tafinlar (Dabrafenib) and/or Mekinist (Trametinib) | Recruiting | NCT03975829 | Phase 4 | dabrafenib;trametinib |
| 4 | A Single Center, Open-Label, Randomized Study to Evaluate the Safety and Efficacy of Neoadjuvant and Adjuvant Pembrolizumab on Top of Standard Chemo-Radiotherapy (Stupp Protocol) in Treatment of Patients With Newly Diagnosed Glioblastoma Multiforme (GBM). | Not yet recruiting | NCT05235737 | Phase 4 | Pembrolizumab |
| 5 | A Prospective, Non-randomized, Concurrent Control, Open Label, Post-approval Study of NovoTTF-100A in Recurrent GBM Patient | Terminated | NCT01756729 | Phase 4 | |
| 6 | A Single-blind, Randomized, Clinical Trial Comparing the Efficacy of 6 Cycles Versus 12 Cycles Temozolomide Regimens in Adjuvant Treatment of Patients With Brain High Grade Glioma | Unknown status | NCT03633552 | Phase 3 | Temozolomide |
| 7 | The Effect of Escitalopram on Mood, Quality of Life and Cognitive Functioning in Glioblastoma Patients | Unknown status | NCT02623231 | Phase 2, Phase 3 | Escitalopram;placebo |
| 8 | PHASE I-II TRIAL OF METRONOMIC TEMOZOLAMIDE WITH INTERMITTENT INTENSIFICATION AND IRINOTECAN IN PATIENTS WITH RECURRENT GLIOBLASTOMA | Unknown status | NCT01308632 | Phase 2, Phase 3 | Temozolamide, irinotecan |
| 9 | Phase 3 Study of Carmustine Sustained Release Implant (CASANT) to Treat Newly Diagnosed Malignant Glioma | Unknown status | NCT01656980 | Phase 3 | Carmustine |
| 10 | A Phase III Trial on Adjuvant Standard Temozolomide Chemotherapy With or Without Interferon-alpha in Newly Diagnosed High-grade Gliomas | Unknown status | NCT01765088 | Phase 3 | Temozolomide;α-IFN |
| 11 | Randomized, Prospective, Multicenter Blinding Singles With Arm A and Arm B Innovative Strategy Strategy Conventional | Unknown status | NCT01811121 | Phase 3 | 5-aminolévulinique acid (5-ALA);Placebo |
| 12 | Proteome-based Personalized Immunotherapy of Malignant Brain Tumors | Unknown status | NCT01759810 | Phase 2, Phase 3 | |
| 13 | Phase-III Study of Standard Radiotherapy Plus Concomitant and Adjuvant OSAG 101 (Theraloc®) Plus Temozolomide vs. Standard Radiotherapy Plus Concomitant and Adjuvant Temozolomide in Patient With Newly Diagnosed, Histologically Confirmed Glioblastoma Multiforme Grade IV | Completed | NCT00753246 | Phase 3 | nimotuzumab |
| 14 | A Randomized Phase III Study of Temozolomide and Short-Course Radiation Versus Short-Course Radiation Alone In The Treatment of Newly Diagnosed Glioblastoma Multiforme in Elderly Patients | Completed | NCT00482677 | Phase 3 | temozolomide |
| 15 | A Phase III Multicenter Study of Intratumoral/Interstitial Therapy With TransMID Compared to Best Standard of Care in Patients With Progressive and/or Recurrent, Non-Resectable Glioblastoma Multiforme | Completed | NCT00088400 | Phase 3 | TransMID |
| 16 | PRECISE - Phase III Randomized Evaluation of Convection Enhanced Delivery of IL13-PE38QQR Compared to GLIADEL® Wafer With Survival Endpoint in Glioblastoma Multiforme Patients at First Recurrence | Completed | NCT00076986 | Phase 3 | IL13-PE38QQR;prolifespan 20 with carmustine implant (GLIADEL® Wafer) |
| 17 | A PHASE III TRIAL COMPARING THE USE OF RADIOSURGERY FOLLOWED BY CONVENTIONAL RADIOTHERAPY WITH BCNU TO CONVENTIONAL RADIOTHERAPY WITH BCNU FOR SUPRATENTORIAL GLIOBLASTOMA MULTIFORME | Completed | NCT00002545 | Phase 3 | carmustine |
| 18 | A Phase III, Randomized, Open-Label Study Of IV Edotecarin Vs Temozolomide Or Carmustine (BCNU) Or Lomustine (CCNU) In Patients With Glioblastoma Multiforme At First Relapse After Alkylator-Based (NEO) Adjuvant Chemotherapy | Completed | NCT00068952 | Phase 3 | Edotecarin;Temozolomide;Carmustine (BCNU);Lomustine (CCNU) |
| 19 | A Phase III Study of Radiation Therapy (RT) and O6-Benzylguanine (O6-BG) Plus BCNU Versus RT and BCNU Alone for Newly Diagnosed Glioblastoma Multiforme (GBM) and Gliosarcoma | Completed | NCT00017147 | Phase 3 | carmustine;O6-Benzylguanine |
| 20 | Concomitant and Adjuvant Temozolomide and Radiotherapy for Newly Diagnosed Glioblastoma Multiforme - A Randomized Phase III Study | Completed | NCT00006353 | Phase 3 | temozolomide |
| 21 | A Phase III Randomized Study of SU101 Versus Procarbazine for Patients With Glioblastoma Multiforme in First Relapse | Completed | NCT00003293 | Phase 3 | leflunomide;procarbazine hydrochloride |
| 22 | Chloroquine as Adjuvant to the Treatment of Glioblastoma Multiforme, A Randomized Trial | Completed | NCT00224978 | Phase 3 | Chloroquine |
| 23 | A Randomized Phase III Study of Short Course (One-week) Radiation Therapy Versus Standard Course (Three-week) Radiation Therapy in Elderly and/or Frail Patients With Newly Diagnosed Glioblastoma Multiforme | Completed | NCT01450449 | Phase 3 | |
| 24 | A Phase III Comparison of Hyperfractionated Radiation Therapy (RT) With BCNU and Conventional RT With BCNU for Supratentorial Malignant Glioma | Completed | NCT03722355 | Phase 3 | Carmustine |
| 25 | Radiotherapy for Malignant Astrocytomas in the Elderly | Completed | NCT00430911 | Phase 3 | Radiotherapy |
| 26 | A Prospective, Multi-center Trial of NovoTTF-100A Compared to Best Standard of Care in Patients With Progressive or Recurrent GBM | Completed | NCT00379470 | Phase 3 | |
| 27 | Phase III Study of Imatinib Mesylate in Combination With Hydroxyurea Versus Hydroxyurea Alone as an Oral Therapy in Patients With Temozolomide Resistant Progressive Glioblastoma | Completed | NCT00154375 | Phase 3 | Imatinib mesylate;Hydroxyurea |
| 28 | A Prospective, Multi-center Trial of NovoTTF-100A Together With Temozolomide Compared to Temozolomide Alone in Patients With Newly Diagnosed GBM. | Completed | NCT00916409 | Phase 3 | Temozolomide |
| 29 | Phase III Trial Exploring the Combination of Bevacizumab and Lomustine in Patients With First Recurrence of a Glioblastoma | Completed | NCT01290939 | Phase 3 | lomustine |
| 30 | An International, Randomized, Double-Blind, Controlled Study of Rindopepimut/GM-CSF With Adjuvant Temozolomide in Patients With Newly Diagnosed, Surgically Resected, EGFRvIII-positive Glioblastoma | Completed | NCT01480479 | Phase 3 | Rindopepimut (CDX-110) with GM-CSF;Temozolomide;KLH |
| 31 | Phase III Double-blind Placebo-Controlled Trial of Conventional Concurrent Chemoradiation and Adjuvant Temozolomide Plus Bevacizumab Versus Conventional Concurrent Chemoradiation and Adjuvant Temozolomide in Patients With Newly Diagnosed Glioblastoma | Completed | NCT00884741 | Phase 3 | Temozolomide |
| 32 | Multi-center, Randomized, Open-label Phase 3 Clinical Trial to Assess the Efficacy and Safety of 'INNOCELL Immuncell-LC' With Temozolomide in Newly Diagnosed Glioblastoma of Korea | Completed | NCT00807027 | Phase 3 | Activated T lymphocyte(Immuncell-LC) |
| 33 | A Phase III, Randomised, Parallel Group, Multi-Centre Study in Recurrent Glioblastoma Patients to Compare the Efficacy of Cediranib [RECENTIN™, AZD2171] Monotherapy and the Combination of Cediranib With Lomustine to the Efficacy of Lomustine Alone | Completed | NCT00777153 | Phase 3 | Cediranib;Lomustine Chemotherapy;Placebo Cediranib |
| 34 | DIRECT (DIsulfiram REsponse as add-on to ChemoTherapy in Recurrent) Glioblastoma: A Randomized Controlled Trial | Completed | NCT02678975 | Phase 2, Phase 3 | Disulfiram;Alkylating Agents |
| 35 | A Randomized Phase 3 Open Label Study of Nivolumab vs Temozolomide Each in Combination With Radiation Therapy in Newly Diagnosed Adult Subjects With Unmethylated MGMT (Tumor O-6-methylguanine DNA Methyltransferase) Glioblastoma (CheckMate 498: CHECKpoint Pathway and Nivolumab Clinical Trial Evaluation 498) | Completed | NCT02617589 | Phase 3 | Nivolumab;Temozolomide |
| 36 | Cilengitide for Subjects With Newly Diagnosed Glioblastoma and Methylated MGMT Gene Promoter - A Multicenter, Open-label, Controlled Phase III Study, Testing Cilengitide in Combination With Standard Treatment (Temozolomide With Concomitant Radiation Therapy, Followed by Temozolomide Maintenance Therapy) Versus Standard Treatment Alone (CENTRIC) | Completed | NCT00689221 | Phase 3 | Cilengitide;Temozolomide |
| 37 | A Randomized, Placebo Controlled Phase 3 Study of ABT-414 With Concurrent Chemoradiation and Adjuvant Temozolomide in Subjects With Newly Diagnosed Glioblastoma (GBM) With Epidermal Growth Factor Receptor (EGFR) Amplification (Intellance1) | Completed | NCT02573324 | Phase 2, Phase 3 | Temozolomide;ABT-414;Placebo for ABT-414 |
| 38 | A Randomized, Double-Blind, Placebo-Controlled, Multicenter Phase III Trial of Bevacizumab, Temozolomide and Radiotherapy, Followed by Bevacizumab and Temozolomide Versus Placebo, Temozolomide and Radiotherapy Followed by Placebo and Temozolomide in Patients With Newly Diagnosed Glioblastoma | Completed | NCT00943826 | Phase 3 | Bevacizumab;Temozolomide;Placebo |
| 39 | Phase III Trial of CCNU/Temozolomide (TMZ) Combination Therapy vs. Standard TMZ Therapy for Newly Diagnosed MGMT-methylated Glioblastoma Patients | Completed | NCT01149109 | Phase 3 | Temozolomide and lomustine;Temozolomide |
| 40 | A Multicenter, Open-Label, Randomized, Active-Controlled Parallel Groups Study Comparing the Efficacy and Safety of Temodal vs Semustine in the Treatment of Subjects With Recurrent Glioblastoma or Anaplastic Astrocytoma | Completed | NCT00335075 | Phase 3 | Temozolomide;Semustine |
| 41 | Phase III Trial Comparing Conventional Adjuvant Temozolomide With Dose-Intensive Temozolomide in Patients With Newly Diagnosed Glioblastoma | Completed | NCT00304031 | Phase 3 | Concurrent temozolomide;100mg/m2 adjuvant temozolomide days 1 to 5 of 28 day cycle;75mg/m2 adjuvant temozolomide days 1-21 of 28 day cycle |
| 42 | Randomized Phase 3 Open Label Study - Enzastaurin vs. Lomustine in Glioblastoma | Completed | NCT00295815 | Phase 3 | enzastaurin;lomustine |
| 43 | A Phase 3, Randomized, Controlled, Double-Arm, Open-Label, Multi-center Study of VB-111 Combined With Bevacizumab vs. Bevacizumab Monotherapy in Patients With Recurrent Glioblastoma | Completed | NCT02511405 | Phase 3 | VB-111 + bevacizumab;Bevacizumab |
| 44 | Angiotensin II Receptor Blockers, Steroids and Radiotherapy in Glioblastoma- A Randomized Multicenter Trial | Completed | NCT01805453 | Phase 3 | Losartan;Placebo |
| 45 | Conventional Adjuvant Temozolomide With Dose Intensive Temozolomide in Patients With Newly Diagnosed Glioblastoma | Completed | NCT01364064 | Phase 3 | TMZ |
| 46 | Interest of Fluorescein in Fluorescence-guided Resection of Gliomas: A Randomized Study | Completed | NCT03291977 | Phase 3 | Fluorescéine Sodique Faure |
| 47 | Temozolomid (One Week on/One Week Off) Versus Strahlentherapie in Der Primärtherapie Anaplastischer Astrozytome Und Glioblastome Bei älteren Patienten: Eine Randomisierte Phase III-Studie (Methvsalem) | Completed | NCT01502241 | Phase 3 | Temozolomide |
| 48 | Randomized Study of Normal-fractionated Radiotherapy Versus Hypofractionated Radiotherapy Versus Chemotherapy in Patients Over 60 Years With Malignant Glioma | Completed | NCT00820963 | Phase 3 | temozolomide |
| 49 | A Phase III Randomized Trial of Repeated Superselective Intraarterial Cerebral Infusion (SIACI) of Bevacizumab (Avastin) With Temozolomide and Radiation Compared to Temozolomide and Radiation Alone in Newly Diagnosed Glioblastoma (GBM) | Recruiting | NCT05271240 | Phase 3 | Repeated Superselective Intraarterial Cerebral infusion (SIACI) of Bevacizumab (Avastin) with Temozolomide and Radiation;Temozolomide and Radiation Alone |
| 50 | A Multicenter Randomized Phase III Trial on INTraoperative RAdiotherapy in Newly Diagnosed GliOblastoma Multiforme (INTRAGO II) | Recruiting | NCT02685605 | Phase 3 | Temozolomide |
Inferred drug relations via
UMLS

71 /

NDF-RT

50 :
Cochrane evidence based reviews: glioblastoma
Genetic Tests for Glioblastoma
Anatomical Context for Glioblastoma
Organs/tissues related to Glioblastoma:
MalaCards

:
Brain,
T Cells,
Eye,
Myeloid,
Spinal Cord,
Bone Marrow,
Endothelial
Publications for Glioblastoma
Articles related to Glioblastoma:
(show top 50)
(show all 33975)
| # | Title | Authors | PMID | Year |
| --- | --- | --- | --- | --- |
| 1 | MicroRNA-34a inhibits glioblastoma growth by targeting multiple oncogenes. 53 62 46 | | 19773441 | 2009 |
| 2 | miR-124 and miR-137 inhibit proliferation of glioblastoma multiforme cells and induce differentiation of brain tumor stem cells. 53 62 46 | | 18577219 | 2008 |
| 3 | Regulation of p27Kip1 by miRNA 221/222 in glioblastoma. 53 62 46 | | 17721077 | 2007 |
| 4 | Identifying recurrent mutations in cancer reveals widespread lineage diversity and mutational specificity. 5 | | 26619011 | 2016 |
| 5 | MicroRNA-451 regulates LKB1/AMPK signaling and allows adaptation to metabolic stress in glioma cells. 62 46 | | 20227367 | 2010 |
| 6 | MicroRNA-21 targets LRRFIP1 and contributes to VM-26 resistance in glioblastoma multiforme. 62 46 | | 19559015 | 2009 |
| 7 | miR-21 and 221 upregulation and miR-181b downregulation in human grade II-IV astrocytic tumors. 62 46 | | 19159078 | 2009 |
| 8 | Up-regulation of micro-RNA-221 (miRNA-221; chr Xp11.3) and caspase-3 accompanies down-regulation of the survivin-1 homolog BIRC1 (NAIP) in glioblastoma multiforme (GBM). 62 46 | | 18759060 | 2009 |
| 9 | MicroRNA-21 down-regulates the expression of tumor suppressor PDCD4 in human glioblastoma cell T98G. 62 46 | | 19013014 | 2008 |
| 10 | MIR-451 and Imatinib mesylate inhibit tumor growth of Glioblastoma stem cells. 62 46 | | 18765229 | 2008 |
| 11 | MicroRNA-21 targets a network of key tumor-suppressive pathways in glioblastoma cells. 62 46 | Papagiannakopoulos T...Kosik KS | 18829576 | 2008 |
| 12 | Extensive modulation of a set of microRNAs in primary glioblastoma. 62 46 | | 16039986 | 2005 |
| 13 | MicroRNA-21 is an antiapoptotic factor in human glioblastoma cells. 62 46 | | 16024602 | 2005 |
| 14 | Recombinant single-chain variable fragment antibodies against extracellular epitopes of human multidrug resistance protein MRP3 for targeting malignant gliomas. 53 62 | | 19937796 | 2010 |
| 15 | Effect of combination treatment of rapamycin and isoflavones on mTOR pathway in human glioblastoma (U87) cells. 53 62 | | 20177775 | 2010 |
| 16 | miR-182 as a prognostic marker for glioma progression and patient survival. 46 | | 20472885 | 2010 |
| 17 | Knockdown of STAT3 expression by RNAi suppresses growth and induces apoptosis and differentiation in glioblastoma stem cells. 53 62 | | 20514402 | 2010 |
| 18 | Epidermal growth factor receptor in glioblastomas: correlation between gene copy number and protein expression. 53 62 | Coulibaly B...Figarella-Branger D | 20303140 | 2010 |
| 19 | New pattern of EGFR amplification in glioblastoma and the relationship of gene copy number with gene expression profile. 53 62 | Lopez-Gines C...Cerda-Nicolas M | 20305620 | 2010 |
| 20 | Prognostic value of MGMT promoter methylation in glioblastoma patients treated with temozolomide-based chemoradiation: a Portuguese multicentre study. 53 62 | | 20428822 | 2010 |
| 21 | Influence of Etoposide on anti-apoptotic and multidrug resistance-associated protein genes in CD133 positive U251 glioblastoma stem-like cells. 53 62 | | 20388502 | 2010 |
| 22 | IL-6 augments the invasiveness of U87MG human glioblastoma multiforme cells via up-regulation of MMP-2 and fascin-1. 53 62 | | 20428809 | 2010 |
| 23 | Differential distribution of erbB receptors in human glioblastoma multiforme: expression of erbB3 in CD133-positive putative cancer stem cells. 53 62 | Duhem-Tonnelle V...Sharif A | 20467331 | 2010 |
| 24 | An unusual loss of EGFR gene copy in glioblastoma multiforme in a child: a case report and analysis of a successfully derived HGG-02 cell line. 53 62 | | 20195615 | 2010 |
| 25 | Amplicons on chromosome 12q13-21 in glioblastoma recurrences. 53 62 | | 19839052 | 2010 |
| 26 | Prognostic value of O6-methylguanine-DNA methyltransferase status in glioblastoma patients, assessed by five different methods. 53 62 | Karayan-Tapon L...Gratas-Rabbia-Re C | 19841865 | 2010 |
| 27 | Differential role of cathepsins B and L in autophagy-associated cell death induced by arsenic trioxide in U87 human glioblastoma cells. 53 62 | | 20302512 | 2010 |
| 28 | Differential expression and cellular distribution of gamma-tubulin and betaIII-tubulin in medulloblastomas and human medulloblastoma cell lines. 53 62 | Caracciolo V...Katsetos CD | 20162618 | 2010 |
| 29 | Intratumoral hypoxic gradient drives stem cells distribution and MGMT expression in glioblastoma. 53 62 | | 20309962 | 2010 |
| 30 | FasL gene knock-down therapy enhances the antiglioma immune response. 53 62 | | 20406899 | 2010 |
| 31 | Mechanistic evaluation of the novel HSP90 inhibitor NVP-AUY922 in adult and pediatric glioblastoma. 53 62 | | 20457619 | 2010 |
| 32 | Hepatocyte growth factor in cerebrospinal fluid is associated with mortality and recurrence of glioblastoma, and could be of prognostic value. 53 62 | Garcia-Navarrete R...Sotelo J | 19856144 | 2010 |
| 33 | Opposite changes in cannabinoid CB1 and CB2 receptor expression in human gliomas. 53 62 | | 20307616 | 2010 |
| 34 | Sphingosine-1-phosphate receptor type 1 regulates glioma cell proliferation and correlates with patient survival. 53 62 | | 19810093 | 2010 |
| 35 | Glycomic and transcriptomic response of GSC11 glioblastoma stem cells to STAT3 phosphorylation inhibition and serum-induced differentiation. 53 62 | | 20199106 | 2010 |
| 36 | Changes of the O6-methylguanine-DNA methyltransferase promoter methylation and MGMT protein expression after adjuvant treatment in glioblastoma. 53 62 | | 20372840 | 2010 |
| 37 | Integrin alpha 6 regulates glioblastoma stem cells. 53 62 | | 20452317 | 2010 |
| 38 | Minimally cytotoxic doses of temozolomide produce radiosensitization in human glioblastoma cells regardless of MGMT expression. 53 62 | | 20457618 | 2010 |
| 39 | Modulation of metalloproteinase-9 in U87MG glioblastoma cells by A3 adenosine receptors. 53 62 | | 20096265 | 2010 |
| 40 | The expression level of sphingosine-1-phosphate receptor type 1 is related to MIB-1 labeling index and predicts survival of glioblastoma patients. 53 62 | | 19937366 | 2010 |
| 41 | Prion protein: From physiology to cancer biology. 53 62 | | 19674833 | 2010 |
| 42 | The prognostic IDH1( R132 ) mutation is associated with reduced NADP+-dependent IDH activity in glioblastoma. 53 62 | Bleeker FE...Van Noorden CJ | 20127344 | 2010 |
| 43 | Vascular endothelial growth factor targeted therapy in the perioperative setting: implications for patient care. 53 62 | | 20171141 | 2010 |
| 44 | Sorafenib induces growth arrest and apoptosis of human glioblastoma cells through the dephosphorylation of signal transducers and activators of transcription 3. 53 62 | | 20371721 | 2010 |
| 45 | Farnesyl diphosphate synthase attenuates paclitaxel-induced apoptotic cell death in human glioblastoma U87MG cells. 53 62 | | 20298756 | 2010 |
| 46 | Upregulation of PTEN in glioma cells by cord blood mesenchymal stem cells inhibits migration via downregulation of the PI3K/Akt pathway. 53 62 | | 20436671 | 2010 |
| 47 | Peptide-based interference of the transmembrane domain of neuropilin-1 inhibits glioma growth in vivo. 53 62 | | 20140015 | 2010 |
| 48 | Chloroquine activates the p53 pathway and induces apoptosis in human glioma cells. 53 62 | | 20308316 | 2010 |
| 49 | Metabolic management of glioblastoma multiforme using standard therapy together with a restricted ketogenic diet: Case Report. 53 62 | | 20412570 | 2010 |
| 50 | A novel molecular diagnostic of glioblastomas: detection of an extracellular fragment of protein tyrosine phosphatase mu. 53 62 | Burden-Gulley SM...Brady-Kalnay SM | 20360941 | 2010 |
Variations for Glioblastoma
ClinVar genetic disease variations for Glioblastoma:
5
(show top 50)
(show all 234)
Copy number variations for Glioblastoma from CNVD:
6
(show top 50)
(show all 797)
| # | CNVD ID | Chromosome | Start | End | Type | Gene Symbol | CNVD Disease |
| --- | --- | --- | --- | --- | --- | --- | --- |
| 1 | 13315 | 1 | 1 | 117600000 | Gain | | Glioblastoma multiforme |
| 2 | 13333 | 1 | 1 | 124300000 | Gain | | Glioblastoma multiforme |
| 3 | 13339 | 1 | 1 | 124300000 | Loss | | Glioblastoma multiforme |
| 4 | 13340 | 1 | 1 | 124300000 | Loss | | Glioblastoma multiforme |
| 5 | 13341 | 1 | 1 | 124300000 | Loss | | Glioblastoma multiforme |
| 6 | 13359 | 1 | 1 | 12600000 | Gain | | Glioblastoma multiforme |
| 7 | 13365 | 1 | 1 | 16100000 | Gain | | Glioblastoma multiforme |
| 8 | 13750 | 1 | 1 | 27800000 | Loss | | Glioblastoma multiforme |
| 9 | 13758 | 1 | 1 | 28000000 | Copy number | | Glioblastoma |
| 10 | 13761 | 1 | 1 | 28000000 | Deletion | | Glioblastoma multiforme |
| 11 | 13763 | 1 | 1 | 28000000 | Gain | | Glioblastoma multiforme |
| 12 | 13775 | 1 | 1 | 39600000 | Loss | | Glioblastoma multiforme |
| 13 | 13792 | 1 | 1 | 51300000 | Loss | | Glioblastoma multiforme |
| 14 | 13822 | 1 | 1 | 7200000 | Deletion | MTHFR | Glioblastoma multiforme |
| 15 | 14314 | 1 | 107000000 | 111600000 | Gain | | Glioblastoma multiforme |
| 16 | 14414 | 1 | 107915304 | 108309068 | amplification | VAV3 | Glioblastoma multiforme |
| 17 | 14609 | 1 | 109636509 | 109651136 | Fusion | MYBPHL | Glioblastoma multiforme |
| 18 | 15403 | 1 | 115061059 | 115084034 | Fusion | CSDE1 | Glioblastoma multiforme |
| 19 | 16435 | 1 | 124300000 | 247249719 | Gain | | Glioblastoma multiforme |
| 20 | 16436 | 1 | 124300000 | 247249719 | Gain | | Glioblastoma multiforme |
| 21 | 16437 | 1 | 124300000 | 247249719 | Gain | | Glioblastoma multiforme |
| 22 | 16444 | 1 | 124300000 | 247249719 | Loss | | Glioblastoma multiforme |
| 23 | 16683 | 1 | 130300000 | 212100000 | Gain | ATP2B4 | Glioblastoma multiforme |
| 24 | 19008 | 1 | 148161834 | 148166860 | Copy number | SF3B4 | Glioblastoma multiforme |
| 25 | 19791 | 1 | 151370387 | 155734861 | Gain | CLK2 | Glioblastoma multiforme |
| 26 | 20600 | 1 | 153272923 | 153289968 | Fusion | DCST1 | Glioblastoma multiforme |
| 27 | 20612 | 1 | 153300000 | 154800000 | Gain | RAB25 | Glioblastoma multiforme |
| 28 | 21114 | 1 | 156847119 | 156923130 | Copy number | SPTA1 | Glioblastoma multiforme |
| 29 | 22041 | 1 | 16450831 | 16482564 | Copy number | EPHA2 | Glioblastoma multiforme |
| 30 | 23682 | 1 | 172900000 | 185800000 | Gain | | Glioblastoma multiforme |
| 31 | 24288 | 1 | 178190530 | 178346919 | Fusion | CEP350 | Glioblastoma multiforme |
| 32 | 25428 | 1 | 189000000 | 197500000 | Gain | | Glioblastoma multiforme |
| 33 | 25567 | 1 | 191357783 | 191486465 | Fusion | CDC73 | Glioblastoma multiforme |
| 34 | 26137 | 1 | 197500000 | 205300000 | Amplification | LRRN2 | Glioblastoma multiforme |
| 35 | 26138 | 1 | 197500000 | 205300000 | Amplification | MDM4 | Glioblastoma multiforme |
| 36 | 26139 | 1 | 197500000 | 205300000 | Amplification | MDM4 | Glioblastoma multiforme |
| 37 | 26142 | 1 | 197500000 | 205300000 | Amplification | NFASC | Glioblastoma multiforme |
| 38 | 26146 | 1 | 197500000 | 205300000 | Amplificationlication | MDM2 | Glioblastoma multiforme |
| 39 | 26474 | 1 | 200429740 | 200554958 | Truncation | LGR6 | Glioblastoma multiforme |
| 40 | 26515 | 1 | 200858000 | 202110000 | Copy number | MDM4 | Glioblastoma multiforme |
| 41 | 26660 | 1 | 201942811 | 203355851 | Amplification | MDM4 | Glioblastoma multiforme |
| 42 | 28554 | 1 | 223214607 | 229308654 | Gain | ARF1 | Glioblastoma multiforme |
| 43 | 28555 | 1 | 223214607 | 229308654 | Gain | WNT3A | Glioblastoma multiforme |
| 44 | 29626 | 1 | 233890968 | 234060340 | Fusion | LYST | Glioblastoma multiforme |
| 45 | 30289 | 1 | 241700000 | 247249719 | Amplification | AKT3 | Glioblastoma multiforme |
| 46 | 30312 | 1 | 241718157 | 242073207 | Amplification | AKT3 | Glioblastoma |
| 47 | 30407 | 1 | 2429834 | 2447886 | Fusion | PANK4 | Glioblastoma multiforme |
| 48 | 31747 | 1 | 30500000 | 171200000 | Gain | | Glioblastoma multiforme |
| 49 | 32775 | 1 | 3928417 | 3978407 | Deletion | | Glioblastoma multiforme |
| 50 | 32899 | 1 | 4028404 | 6333694 | Deletion | AJAP1 | Glioblastoma multiforme |
Pathways for Glioblastoma

Pathways directly related to Glioblastoma:
Pathways related to Glioblastoma according to GeneCards Suite gene sharing:
GO Terms for Glioblastoma
Cellular components related to Glioblastoma according to GeneCards Suite gene sharing:
Biological processes related to Glioblastoma according to GeneCards Suite gene sharing:
(show all 20)
Molecular functions related to Glioblastoma according to GeneCards Suite gene sharing:
Sources for Glioblastoma