Measles

Categories

: Eye diseases, Infectious diseases, Rare diseases, Skin diseases, Smell/Taste diseases

Data Licensing

For inquiries, contact:
Aliases & Classifications for Measles
Summaries for Measles
MedlinePlus: 41 Measles is an infectious disease caused by a virus. It spreads easily from person to person. It causes a blotchy red rash. The rash often starts on the head and moves down the body. Other symptoms include: Fever Cough Runny nose Conjunctivitis (pink eye) Feeling achy and run down Tiny white spots inside the mouth Sometimes measles can lead to serious problems. There is no treatment for measles, but the measles-mumps-rubella (MMR) vaccine can prevent it. "German measles", also known as rubella, is a completely different illness. Centers for Disease Control and Prevention
MalaCards based summary: Measles, also known as rubeola, is related to rubella and subacute sclerosing panencephalitis, and has symptoms including fever, cough and conjunctivitis. An important gene associated with Measles is CD46 (CD46 Molecule), and among its related pathways/superpathways are Disease and Innate Immune System. The drugs BCG vaccine and Adjuvants, Immunologic have been mentioned in the context of this disorder. Affiliated tissues include skin, brain and eye, and related phenotypes are homeostasis/metabolism and immune system
Disease Ontology: 11 A viral infectious disease that results in infection located in skin, has material basis in Measles virus, which is transmitted by contact with oronasal secretions, or semen of an infected person. The infection has symptom fever, has symptom cough, has symptom coryza, has symptom conjunctivitis, and has symptom maculopapular, erythematous rash.
GARD: 19 A highly contagious infectious disease caused by MORBILLIVIRUS, common among children but also seen in the nonimmune of any age, in which the virus enters the respiratory tract via droplet nuclei and multiplies in the epithelial cells, spreading throughout the MONONUCLEAR PHAGOCYTE SYSTEM.
CDC: 2 Measles is a highly contagious virus that can lead to complications.
Wikipedia: 75 Measles is a highly contagious infectious disease caused by measles virus. Symptoms usually develop... more...
Related Diseases for Measles
Diseases related to Measles via text searches within MalaCards or GeneCards Suite gene sharing:
(show top 50)
(show all 966)
Graphical network of the top 20 diseases related to Measles: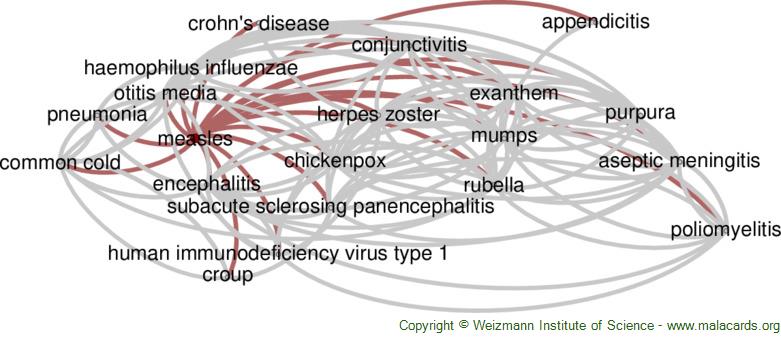 Symptoms & Phenotypes for Measles
UMLS symptoms related to Measles:
fever;
pruritus;
exanthema;
koplik spots
GenomeRNAi Phenotypes related to Measles according to GeneCards Suite gene sharing:
25
MGI Mouse Phenotypes related to Measles:
45
Drugs & Therapeutics for Measles
Drugs for Measles (from DrugBank, HMDB, Dgidb, PharmGKB, IUPHAR, NovoSeek, BitterDB):
(show top 50)
(show all 80)
| | | | | | | | |
| --- | --- | --- | --- | --- | --- | --- | --- |
| # | | Name | Status | Phase | Clinical Trials | Cas Number | PubChem Id |
| 1 | | BCG vaccine | Approved, Investigational | Phase 4 | | | |
| 2 | | Adjuvants, Immunologic | | Phase 4 | | | |
| 3 | | Liver Extracts | | Phase 4 | | | |
| 4 | | Immunologic Factors | | Phase 4 | | | |
| 5 | | Podophyllin | Approved | Phase 3 | | 9000-55-9 | |
| 6 | | Petrolatum | Approved, Investigational | Phase 3 | | 8009-03-8 | |
| 7 | | Levoleucovorin | Approved, Experimental, Investigational | Phase 3 | | 68538-85-2, 58-05-9, 73951-54-9 | 149436 6006 |
| 8 | | Trimethoprim | Approved, Vet_approved | Phase 3 | | 738-70-5 | 5578 |
| 9 | | Sulfamethoxazole | Approved | Phase 3 | | 723-46-6 | 5329 |
| 10 | | Orange | Approved | Phase 3 | | | |
| 11 | | Folic acid | Approved, Nutraceutical, Vet_approved | Phase 3 | | 59-30-3 | 6037 |
| 12 | | Vitamin A | Approved, Nutraceutical, Vet_approved | Phase 3 | | 22737-96-8, 68-26-8 | 5280382 445354 |
| 13 | | Keratolytic Agents | | Phase 3 | | | |
| 14 | | Dermatologic Agents | | Phase 3 | | | |
| 15 | | Folic Acid Antagonists | | Phase 3 | | | |
| 16 | | Folate | | Phase 3 | | | |
| 17 | | Vitamin B9 | | Phase 3 | | | |
| 18 | | Antiprotozoal Agents | | Phase 3 | | | |
| 19 | | Antiparasitic Agents | | Phase 3 | | | |
| 20 | | Vitamin B Complex | | Phase 3 | | | |
| 21 | | Antimalarials | | Phase 3 | | | |
| 22 | | Trimethoprim, Sulfamethoxazole Drug Combination | | Phase 3 | | | |
| 23 | | Cytochrome P-450 Enzyme Inhibitors | | Phase 3 | | | |
| 24 | | Vitamins | | Phase 3 | | | |
| 25 | | Retinol palmitate | | Phase 3 | | | |
| 26 | | Somatomedin B | | Phase 3 | | | |
| 27 | | Hemagglutinins | | Phase 3 | | | |
| 28 | | Taxane | | Phase 3 | | | 108169 |
| 29 | | Trace Elements | | Phase 3 | | | |
| 30 | | Micronutrients | | Phase 3 | | | |
| 31 | | Altretamine | Approved | Phase 2 | | 645-05-6 | 2123 |
| 32 | | Cyclophosphamide | Approved, Investigational | Phase 2 | | 50-18-0, 6055-19-2 | 2907 |
| 33 | | Iodine | Approved, Investigational | Phase 2 | | 7553-56-2 | 807 |
| 34 | | Topotecan | Approved, Investigational | Phase 2 | | 123948-87-8, 119413-54-6 | 60699 60700 |
| 35 | | Bevacizumab | Approved, Investigational | Phase 2 | | 216974-75-3 | 135329020 |
| 36 | | Paclitaxel | Approved, Vet_approved | Phase 2 | | 33069-62-4 | 36314 |
| 37 | | Gemcitabine | Approved | Phase 2 | | 95058-81-4, 122111-03-9 | 60750 |
| 38 | | Doxorubicin | Approved, Investigational | Phase 2 | | 23214-92-8 | 31703 |
| 39 | | Ascorbic acid | Approved, Nutraceutical | Phase 2 | | 50-81-7 | 54676860 54670067 5785 |
| 40 | | Antirheumatic Agents | | Phase 1, Phase 2 | | | |
| 41 | | Alkylating Agents | | Phase 1, Phase 2 | | | |
| 42 | | Antineoplastic Agents, Alkylating | | Phase 1, Phase 2 | | | |
| 43 | | Immunoglobulins | | Phase 2 | | | |
| 44 | | Antibodies | | Phase 2 | | | |
| 45 | | Heptavalent Pneumococcal Conjugate Vaccine | | Phase 2 | | | |
| 46 | | Antibiotics, Antitubercular | | Phase 2 | | | |
| 47 | | Anti-Bacterial Agents | | Phase 2 | | | |
| 48 | | Anti-Infective Agents | | Phase 2 | | | |
| 49 | | Immunoglobulins, Intravenous | | Phase 2 | | | |
| 50 | | Immunosuppressive Agents | | Phase 2 | | | |
Interventional clinical trials:
(show top 50)
(show all 159)
| # | Name | Status | NCT ID | Phase | Drugs |
| --- | --- | --- | --- | --- | --- |
| 1 | A Randomised Trial of an Additional Measles Vaccine at 4 Months of Age to Reduce Child Mortality and to Explore the Role of Maternal Measles Antibodies for the Beneficial Non-specific Effects of Measles Vaccine | Unknown status | NCT01486355 | Phase 4 | |
| 2 | Safety and Immunogenicity of Measles Vaccine, Varicella Vaccine and Hepatitis-A Vaccine in HIV-exposed and HIV-unexposed South African Children | Unknown status | NCT03330171 | Phase 4 | |
| 3 | A Two-site Randomised Trial of an Additional Measles Vaccine at 4 Months of Age to Reduce Child Mortality in Rural Areas of Burkina Faso and Guinea-Bissau | Unknown status | NCT01644721 | Phase 4 | |
| 4 | A Two-site Randomised Trial of an Additional Measles Vaccine at 4 Months of Age to Reduce Child Mortality in Rural Areas of Burkina Faso and Guinea-Bissau | Unknown status | NCT01668745 | Phase 4 | |
| 5 | The Safety and Immunogenicity of Enterovirus Type 71 Inactivated Vaccine (Human Diploid Cell) With Two Measles Attenuated Live Vaccine and Live Attenuated Japanese Encephalitis Vaccine at the Same Time Point in Infants (8-month-old) | Unknown status | NCT03296410 | Phase 4 | |
| 6 | A Randomized, Controlled, Multicenter Phase 4 Clinic Trial to Evaluate the Immunogenicity and Safety of Combined Immunization of Sabin-strain Inactivated Polio Vaccine (sIPV), Diphtheria, Tetanus, Pertussis Vaccine (DTaP) and Measles, Moms and Rubella Vaccine (MMR) | Unknown status | NCT04638985 | Phase 4 | |
| 7 | Search for the Measles Vaccine Virus Excretion in Breast Milk of Breastfeeding Women After Postpartum Vaccination With a Combined Measles-mumps-rubella (MMR) Vaccine | Completed | NCT02325310 | Phase 4 | |
| 8 | Long-term Follow-up of Protective Measles Antibodies in the Two-dose Study of Standard-titre Measles Vaccine in Guinea-Bissau | Completed | NCT00168571 | Phase 4 | |
| 9 | Phase IV Open Study to Assess the Safety, Reactogenicity and Immunogenicity of GlaxoSmithKline (GSK) Biologicals' Live Attenuated Measles-Mumps-Rubella (MMR) Vaccine When Given to Healthy Children at the Age of 12 to 18 Months in Singapore. | Completed | NCT00388440 | Phase 4 | |
| 10 | Non-interference and Safety of Concomitant Administration of Measles-rubella and Rotavirus Vaccines at 9 Months of Age in Rural Bangladesh | Completed | NCT01700621 | Phase 4 | |
| 11 | Assessing Immunogenicity of Measles-Rubella Vaccine at 6 and 9 Months of Age | Completed | NCT03071575 | Phase 4 | |
| 12 | Immunogenicity of Co-administration of Measles Containing Vaccine and Japanese Encephalitis Alive Vaccines | Completed | NCT02643433 | Phase 4 | |
| 13 | A Double-blind, Randomised, Controlled, Multi-centre Safety Study of a Refrigerator-stable Formulation of VARIVAX® in Healthy 12 to 15 Month-old Infants. | Completed | NCT00432731 | Phase 4 | |
| 14 | Non-specific Effects of Vaccines - In Search of the Immunological Background | Completed | NCT00168545 | Phase 4 | |
| 15 | Trial of Two-Dose Standard Measles Vaccination Schedule: Long-Term Impact on Morbidity and Mortality of a Two-Dose Vaccination Schedule at 6 and 9 Months of Age Compared With a Standard Regimen of One Dose at 9 Months of Age | Completed | NCT00168662 | Phase 4 | |
| 16 | Blinded, Randomised Study to Assess the Immunogenicity and Safety of GlaxoSmithKline (GSK) Biologicals' Live Attenuated Measles-mumps-rubella-varicella Candidate Vaccine When Given to Healthy Children in Their Second Year of Life | Completed | NCT00126997 | Phase 4 | |
| 17 | Measles Vaccination in Guinea-Bissau. Strategies to Reduce Disease Burden and Improve Child Survival | Completed | NCT00168558 | Phase 4 | |
| 18 | An Open, Multicenter Study of the Safety and Tolerability of VAQTA(TM) and ProQuad(TM) in Healthy Children 12 to 23 Months of Age | Completed | NCT00326183 | Phase 4 | |
| 19 | Immunogenicity and Safety of AVAXIM™ 80U-Pediatric Administered Alone or Concomitantly With TRIMOVAX™ in 12-13 Months Old Healthy Hepatitis A Seronegative Turkish Children | Completed | NCT00313950 | Phase 4 | |
| 20 | Comparison of Immunization Schedules of Beijing Tiantan Biological's MMR Vaccine in 18-72 Month-Old Children | Completed | NCT03160820 | Phase 4 | |
| 21 | Immunogenicity and Safety of Concurrent Administration of Live, Attenuated SA 14-14-2 Japanese Encephalitis Vaccine and Measles-Mumps-Rubella Vaccine in Infants 9-12 Months of Age in the Philippines | Completed | NCT02880865 | Phase 4 | |
| 22 | Comparative Study of the Immunogenicity of MMR (Measles, Mumps and Rubella), Single Dose and Multidose Presentations in Children 12 to 23 Months of Age. | Completed | NCT01777529 | Phase 4 | |
| 23 | Reactogenicity and Protectivity Following Measles- Rubella (MR) Routine Immunization in Indonesian Infants and Children | Completed | NCT03680417 | Phase 4 | |
| 24 | Multicenter Randomized Clinical Trial in Patients With Juvenile Idiopathic Arthritis: Safety and Efficacy of Vaccination With Live Attenuated Measles, Mumps, Rubella Vaccine | Completed | NCT00731965 | Phase 4 | |
| 25 | The Effect on Overall Mortality of a National Policy of Limiting Measles Vaccination to Children Below 12 Months of Age | Completed | NCT01306006 | Phase 4 | |
| 26 | A Phase 4, Randomized Trial to Assess the Safety and Immunogenicity of Inactivated Poliovirus Vaccine When Given Concomitantly With Measles and Rubella Combined Vaccine and Yellow Fever Vaccine at Nine Months and When Administered Via Different Vaccination Routes | Completed | NCT01847872 | Phase 4 | IPV IM Needle;IPV ID Needle;IPV IM Device;IPV ID Device |
| 27 | A Randomized, Controlled Clinical Trial to Evaluate the Safety and Immunogenicity of Concomitant Administration of EV71 Vaccine With Measles, Mumps, and Rubella Combined Live Attenuated Vaccine/ Encephalitis Live Attenuated Vaccine | Completed | NCT04111432 | Phase 4 | |
| 28 | Measles-mumps-rubella Vaccine at 6 Months of Age, Immunology, and Childhood Morbidity in a High-income Setting | Completed | NCT03780179 | Phase 4 | |
| 29 | Seroprevalence of Antibodies to Measles, Mumps, and Rubella, and Serologic Responses After Vaccination Among Human Immunodeficiency Virus (HIV)-1 Infected Adults in Northern Thailand | Completed | NCT02724852 | Phase 4 | |
| 30 | Immunogenicity of Co-administered Yellow Fever and Measles, Mumps, and Rubella (MMR) Vaccines in Children Under 2 Years Old in Argentina | Completed | NCT03368495 | Phase 4 | |
| 31 | Intralesional Measles, Mumps, Rubella (MMR) Vaccine Versus Cryotherapy in Treatment of Multiple Common and Planter Warts : a Randomized Controlled Trial | Completed | NCT03183765 | Phase 4 | Measles-Mumps-Rubella Vaccine |
| 32 | Diphteria-tetanus-pertussis (DTP) Vaccination and Child Survival: Randomized Study of Not Providing DTP Vaccination Together With or After Measles Vaccination | Completed | NCT00244673 | Phase 4 | |
| 33 | Specific and Non-specific Effects of Measles and BCG Vaccines for Mother and Child | Recruiting | NCT04899765 | Phase 4 | |
| 34 | Induction and Maintenance of Immunity Against Measles in Pediatric Orthotopic Liver Transplantation Recipients: a Prospective Nationwide Study in Switzerland | Recruiting | NCT01770119 | Phase 4 | |
| 35 | A Phase IV Randomized, Blinded Clinical Trial to Assess Measles Mumps and Rubella Combined Vaccine, Live, (MMR) Lot-to-lot Consistency in Healthy Chinese Children at the Age of 8-12 Months | Recruiting | NCT05161845 | Phase 4 | |
| 36 | Immunogenicity and Safety of Concomitant Inoculation of Recombinant Human Papillomavirus Bivalent (Types 16,18) Vaccine (Escherichia Coli) and Measles Mumps and Rubella Combined Vaccine, Live | Active, not recruiting | NCT05279248 | Phase 4 | |
| 37 | A Cluster Randomized Controlled Trial on the Campaign Effect of Measles Vaccine and Oral Polio Vaccine on General Hospital Admissions and Mortality Among Children | Active, not recruiting | NCT03460002 | Phase 4 | |
| 38 | Health Effects of Utilising Curative Health System Contacts to Provide Measles Vaccination - a Randomised Controlled Trial | Enrolling by invitation | NCT04220671 | Phase 4 | |
| 39 | The Efficacy of Intralesional Measles, Mumps, Rubella (MMR) Vaccine, Intralesional Candidal Antigen and Topical Podophyllin in Treatment of Genital Warts: A Comparative Study | Unknown status | NCT03853785 | Phase 3 | Topical Podophyllin |
| 40 | Immunogenicity and Safety Study of GSK Biologicals' Priorix Vaccine (209762) at an End of Shelf-life Potency Compared to Merck & Co., Inc.'s Measles-mumps-rubella (MMR) Vaccine When Both Are Given on a 2-dose Schedule to Healthy Children in Their 2nd Year of Life | Completed | NCT01681992 | Phase 3 | |
| 41 | Prophylactic Antibiotics in Measles Infection. A Community-Based Randomised Double-Blind Placebo-Controlled Trial in Guinea-Bissau | Completed | NCT00168532 | Phase 3 | Sulfamethoxazole-Trimethoprim |
| 42 | Safety and Immunogenicity Study of GSK Biologicals' Measles-mumps-rubella (MMR) Vaccine (209762) Comparing Immunogenicity and Safety to Merck & Co., Inc.'s MMR Vaccine, in Healthy Children 12 to 15 Months of Age | Completed | NCT02184572 | Phase 3 | |
| 43 | Long-Term Assessment at 24 Months Post-Vaccination of the Non-Inferiority of the Concurrent Administration of Japanese Encephalitis Live Attenuated SA 14-14-2 Vaccine and Measles Vaccine to Measles Vaccine Given Alone | Completed | NCT00412516 | Phase 3 | |
| 44 | Immunogenicity & Safety of Bio Farma's Measles-Rubella (MR) Vaccine in Indonesian Infants (Bridging Study) | Completed | NCT04183114 | Phase 2, Phase 3 | |
| 45 | Study of Immunogenicity, Reactogenicity and Safety of the Combined Measles, Mumps and Rubella Vaccine Produced by Bio-Manguinhos/Fiocruz in Children 12-15 Months of Age, Followed by Tetraviral Vaccine in Children 15-18 Months. | Completed | NCT01991899 | Phase 3 | |
| 46 | Follow-up to Evaluate the the Immunogenicity & Safety of GSK Biologicals' MMRV Vaccine Given as a Two-dose Schedule in the Second Year of Life, as Compared to Separate Administration of GSK Biologicals' Priorix® & Varilrix®. | Completed | NCT00406211 | Phase 3 | |
| 47 | An Open, Randomised, Comparative, Multicentre Study of the Immunogenicity and Safety of ProQuad® When Administered by Intramuscular (IM) Route or Subcutaneous (SC) Route to Healthy Children Aged 12 to 18 Months | Completed | NCT00402831 | Phase 3 | |
| 48 | An Immunogenicity and Safety Evaluation of Two Doses of Menactra® (Meningococcal [Groups A, C, Y and W-135] Polysaccharide Diphtheria Toxoid Conjugate Vaccine) Given to Healthy Subjects at 9 and 12 Months of Age | Completed | NCT00384397 | Phase 3 | |
| 49 | Consistency Study of GSK Biologicals' Measles-mumps-rubella (MMR) Vaccine (209762) (Priorix) Comparing Immunogenicity and Safety to Merck & Co., Inc.'s MMR Vaccine (M-M-R II), in Healthy Children 12 to 15 Months of Age | Completed | NCT01702428 | Phase 3 | |
| 50 | Immunogenicity and Safety Study of GSK Biologicals' Combined Measles-mumps-rubella Vaccine in Subjects Seven Years and Older (209762) | Completed | NCT02058563 | Phase 3 | |
Cochrane evidence based reviews: measles
Genetic Tests for Measles
Genetic tests related to Measles:
| # | Genetic test | Affiliating Genes |
| --- | --- | --- |
| 1 | Measles 28 | |
Anatomical Context for Measles
Organs/tissues related to Measles:
MalaCards

:
Skin,
Brain,
Eye,
Liver,
Bone Marrow,
Breast,
Lung
Publications for Measles
Articles related to Measles:
(show top 50)
(show all 25277)
| # | Title | Authors | PMID | Year |
| --- | --- | --- | --- | --- |
| 1 | Impact of the COVID-19 pandemic on timeliness and equity of measles, mumps and rubella vaccinations in North East London: a longitudinal study using electronic health records. 62 41 | | 36456017 | 2022 |
| 2 | Associations of the COVID-19 pandemic with the reported incidence of important endemic infectious disease agents and syndromes in Pakistan. 62 41 | | 36435768 | 2022 |
| 3 | Hesitant and anti-vaccination groups: A qualitative study on their perceptions and attitudes regarding vaccinations and their reluctance to participate in academic research- an example during a measles outbreak among a group of Jewish parents in Israel. 62 41 | | 36438238 | 2022 |
| 4 | Measles virus-induced immunosuppression in SLAM knock-in mice. 53 62 | | 20200244 | 2010 |
| 5 | Measles virus selectively blind to signaling lymphocytic activation molecule (SLAM; CD150) is attenuated and induces strong adaptive immune responses in rhesus monkeys. 53 62 | | 20071568 | 2010 |
| 6 | Measles virus infection of alveolar macrophages and dendritic cells precedes spread to lymphatic organs in transgenic mice expressing human signaling lymphocytic activation molecule (SLAM, CD150). 53 62 | | 20042501 | 2010 |
| 7 | Development and evaluation of a rapid immunochromatographic test for mumps-specific IgM in oral fluid specimens and use as a matrix for preserving viral nucleic acid for RT-PCR. 53 62 | | 20087926 | 2010 |
| 8 | Restriction analysis of otosclerosis-associated CD46 splicing variants. 53 62 | | 19597833 | 2010 |
| 9 | Differential regulation of type I interferon and epidermal growth factor pathways by a human Respirovirus virulence factor. 53 62 | | 19806178 | 2009 |
| 10 | Laboratory confirmation of measles in elimination settings: experience from the Republic of the Marshall Islands, 2003. 53 62 | | 19274360 | 2009 |
| 11 | Inhibition of IFN-alpha/beta signaling by two discrete peptides within measles virus V protein that specifically bind STAT1 and STAT2. 53 62 | | 19007958 | 2009 |
| 12 | Interplay between virus-specific effector response and Foxp3 regulatory T cells in measles virus immunopathogenesis. 53 62 | | 19319188 | 2009 |
| 13 | Disease-associated novel CD46 splicing variants and pathologic bone remodeling in otosclerosis. 53 62 | | 18677279 | 2008 |
| 14 | Associations between cytokine/cytokine receptor single nucleotide polymorphisms and humoral immunity to measles, mumps and rubella in a Somali population. 53 62 | | 18715339 | 2008 |
| 15 | Measles virus induces oncolysis of mesothelioma cells and allows dendritic cells to cross-prime tumor-specific CD8 response. 53 62 | | 18559536 | 2008 |
| 16 | Effects of interleukin-12 and interleukin-15 on measles-specific T-cell responses in vaccinated infants. 53 62 | | 18419254 | 2008 |
| 17 | High-density rafts preferentially host the complement activator measles virus F glycoprotein but not the regulators of complement activation. 53 62 | | 18455798 | 2008 |
| 18 | Associations between SNPs in toll-like receptors and related intracellular signaling molecules and immune responses to measles vaccine: preliminary results. 53 62 | | 18325643 | 2008 |
| 19 | [Host genetic factors for the development of SSPE]. 53 62 | | 17695285 | 2007 |
| 20 | Adenovirus type 5 substituted with type 11 or 35 fiber structure increases its infectivity to human cells enabling dual gene transfer in CD46-dependent and -independent manners. 53 62 | | 17695519 | 2007 |
| 21 | Downregulation of human CD46 by adenovirus serotype 35 vectors. 53 62 | | 17377598 | 2007 |
| 22 | Hemagglutinin protein is a primary target of the measles virus-specific HLA-A2-restricted CD8+ T cell response during measles and after vaccination. 53 62 | | 17492596 | 2007 |
| 23 | Expression of measles virus receptors in otosclerotic, non-otosclerotic and in normal stapes footplates. 53 62 | | 17294206 | 2007 |
| 24 | Current problems of measles control in Japan and Western Pacific Region. 53 62 | | 17368662 | 2007 |
| 25 | Cytosolic 5'-triphosphate ended viral leader transcript of measles virus as activator of the RIG I-mediated interferon response. 53 62 | | 17356690 | 2007 |
| 26 | Measles virus-dendritic cell interaction via SLAM inhibits innate immunity: selective signaling through TLR4 but not other TLRs mediates suppression of IL-12 synthesis. 53 62 | | 17070884 | 2007 |
| 27 | Measles virus infection of SLAM (CD150) knockin mice reproduces tropism and immunosuppression in human infection. 53 62 | | 17135325 | 2007 |
| 28 | Detection of circulating antigen with a MAb-based sandwich-ELISA and its comparison with specific IgM detection in sera of patients with hemorrhagic fever with renal syndrome. 53 62 | | 17316085 | 2007 |
| 29 | A case of common variable immunodeficiency syndrome associated with Takayasu arteritis. 53 62 | Jerschow E...Rosenstreich D | 17304891 | 2007 |
| 30 | Engineered measles virus as a novel oncolytic viral therapy system for hepatocellular carcinoma. 53 62 | | 17133484 | 2006 |
| 31 | Cloning, expression, and purification of a highly immunogenic recombinant gonadotropin-releasing hormone (GnRH) chimeric peptide. 53 62 | | 17064933 | 2006 |
| 32 | The use of a tropism-modified measles virus in folate receptor-targeted virotherapy of ovarian cancer. 53 62 | | 17062694 | 2006 |
| 33 | Loss of memory B cells impairs maintenance of long-term serologic memory during HIV-1 infection. 53 62 | | 16645169 | 2006 |
| 34 | The interferon-inducible RNA helicase, mda-5, is involved in measles virus-induced expression of antiviral cytokines. 53 62 | Berghall H...Matikainen S | 16782388 | 2006 |
| 35 | Identification of amino acid residues involved in the interaction between measles virus Haemagglutin (MVH) and its human cell receptor (signaling lymphocyte activation molecule, SLAM). 53 62 | | 16889684 | 2006 |
| 36 | Oncolytic measles virus targets high CD46 expression on multiple myeloma cells. 53 62 | | 16728275 | 2006 |
| 37 | Assessment of the performance of a definition of a suspected measles case: implications for measles surveillance. 53 62 | Oliveira SA...Siqueira MM | 16723063 | 2006 |
| 38 | Immunosuppression caused by measles virus: role of viral proteins. 53 62 | | 16237742 | 2006 |
| 39 | Alterations in cell-mediated immune response in subacute sclerosing panencephalitis. 53 62 | Yentur SP...Saruhan-Direskeneli G | 16223530 | 2005 |
| 40 | Measles virus replication in lymphatic cells and organs of CD150 (SLAM) transgenic mice. 53 62 | Welstead GG...Richardson CD | 16260741 | 2005 |
| 41 | CD46 on glial cells can function as a receptor for viral glycoprotein-mediated cell-cell fusion. 53 62 | Cassiani-Ingoni R...Jacobson S | 15920733 | 2005 |
| 42 | Evaluation of diagnostic markers for measles virus infection in the context of an outbreak in Spain. 53 62 | Mosquera MM...Echevarria JE | 16207972 | 2005 |
| 43 | Gene expression profiles in peripheral blood mononuclear cells from patients with subacute sclerosing panencephalitis using oligonucleotide microarrays. 53 62 | | 16036810 | 2005 |
| 44 | Localization of regions in CD46 that interact with adenovirus. 53 62 | | 15919905 | 2005 |
| 45 | CD46-independent binding of neisserial type IV pili and the major pilus adhesin, PilC, to human epithelial cells. 53 62 | | 15845515 | 2005 |
| 46 | Rescue and propagation of fully retargeted oncolytic measles viruses. 53 62 | | 15685166 | 2005 |
| 47 | Probing neutralizing-antibody responses against emerging measles viruses (MVs): immune selection of MV by H protein-specific antibodies? 53 62 | | 15659756 | 2005 |
| 48 | Expression of the interferon-alpha/beta-inducible MxA protein in brain lesions of subacute sclerosing panencephalitis. 53 62 | Ogata S...Schneider-Schaulies J | 15337611 | 2004 |
| 49 | Measles virus receptors: SLAM and CD46. 53 62 | | 15248250 | 2004 |
| 50 | Variation in vaccine response in normal populations. 53 62 | Ovsyannikova IG...Poland GA | 15165177 | 2004 |
Variations for Measles
Pathways for Measles
Pathways related to Measles according to GeneCards Suite gene sharing:
(show all 50)
GO Terms for Measles
Biological processes related to Measles according to GeneCards Suite gene sharing:
(show all 43)
Molecular functions related to Measles according to GeneCards Suite gene sharing:
Sources for Measles