Neuroblastoma

(

NB

)

Categories

: Cancer diseases, Endocrine diseases, Eye diseases, Fetal diseases, Gastrointestinal diseases, Genetic diseases, Neuronal diseases, Rare diseases

Data Licensing

For inquiries, contact:
Aliases & Classifications for Neuroblastoma
Summaries for Neuroblastoma
MedlinePlus: 41 What is neuroblastoma? Neuroblastoma is a type of cancer that forms in nerve cells called neuroblasts. Neuroblasts are immature nerve tissue. They normally turn into working nerve cells. But in neuroblastoma, they form a tumor. Neuroblastoma usually begins in the adrenal glands. You have two adrenal glands, one on top of each kidney. The adrenal glands make important hormones that help control heart rate, blood pressure, blood sugar, and the way the body reacts to stress. Neuroblastoma may also begin in the neck, chest or spinal cord. What causes neuroblastoma? Neuroblastoma is caused by mutations (changes) in genes. In most cases, the cause of the mutation is unknown. In some other cases, the mutation is passed from the parent to the child. What are the symptoms of neuroblastoma? Neuroblastoma often begins in early childhood. Sometimes it begins before a child is born.The most common symptoms are caused by the tumor pressing on nearby tissues as it grows or by cancer spreading to the bone.They include: A lump in the abdomen, neck or chest Bulging eyes Dark circles around the eyes Bone pain Swollen stomach and trouble breathing in babies Painless, bluish lumps under the skin in babies Inability to move a body part (paralysis) How is neuroblastoma diagnosed? To diagnose neuroblastoma, your child's health care provider will do various tests and procedures, which may include: A medical history A neurological exam Imaging tests, such as x-rays, a CT scan, an ultrasound, an MRI, or an MIBG scan. In an MIBG scan, a small amount of a radioactive substance is injected into a vein. It travels through the bloodstream and attaches itself to any neuroblastoma cells. A scanner detects the cells. Blood and urine tests Biopsy, where a sample of tissue is removed and examined under a microscope Bone marrow aspiration and biopsy, where bone marrow, blood, and a small piece of bone are removed for testing What are the treatments for neuroblastoma? The treatments for neuroblastoma include: Observation, also called watchful waiting, where the health care provider does not give any treatments until your child's signs or symptoms appear or change Surgery Radiation therapy Chemotherapy High-dose chemotherapy and radiation therapy with stem cell rescue. Your child will get high doses of chemotherapy and radiation. This kills the cancer cells, but it also kills healthy cells. So your child will get a stem cell transplant, usually of his or her own cells collected earlier. This helps to replace the healthy cells that were lost. Iodine 131-MIBG therapy, a treatment with radioactive iodine. The radioactive iodine collects in neuroblastoma cells and kills them with the radiation that is given off. Targeted therapy, which uses drugs or other substances that attack specific cancer cells with less harm to normal cells NIH: National Cancer Institute
MalaCards based summary: Neuroblastoma, also known as nb, is related to differentiating neuroblastoma and glioma, and has symptoms including tremor, back pain and headache. An important gene associated with Neuroblastoma is ALK (ALK Receptor Tyrosine Kinase). The drugs Lenograstim and Nicotine have been mentioned in the context of this disorder. Affiliated tissues include adrenal gland, bone marrow and spinal cord, and related phenotypes are neoplasm of the nervous system and elevated urinary catecholamines
MedlinePlus Genetics: 42 Neuroblastoma is a type of cancer that most often affects children. Neuroblastoma occurs when immature nerve cells called neuroblasts become abnormal and multiply uncontrollably to form a tumor. Most commonly, the tumor originates in the nerve tissue of the adrenal gland located above each kidney. Other common sites for tumors to form include the nerve tissue in the abdomen, chest, neck, or pelvis. Neuroblastoma can spread (metastasize) to other parts of the body such as the bones, liver, or skin.Individuals with neuroblastoma may develop general signs and symptoms such as irritability, fever, tiredness (fatigue), pain, loss of appetite, weight loss, or diarrhea. More specific signs and symptoms depend on the location of the tumor and where it has spread. A tumor in the abdomen can cause abdominal swelling. A tumor in the chest may lead to difficulty breathing. A tumor in the neck can cause nerve damage known as Horner syndrome, which leads to drooping eyelids, small pupils, decreased sweating, and red skin. Tumor metastasis to the bone can cause bone pain, bruises, pale skin, or dark circles around the eyes. Tumors in the backbone can press on the spinal cord and cause weakness, numbness, or paralysis in the arms or legs. A rash of bluish or purplish bumps that look like blueberries indicates that the neuroblastoma has spread to the skin.In addition, neuroblastoma tumors can release hormones that may cause other signs and symptoms such as high blood pressure, rapid heartbeat, flushing of the skin, and sweating. In rare instances, individuals with neuroblastoma may develop opsoclonus myoclonus syndrome, which causes rapid eye movements and jerky muscle motions. This condition occurs when the immune system malfunctions and attacks nerve tissue.Neuroblastoma occurs most often in children before age 5 and rarely occurs in adults.
GARD: 19 Neuroblastoma is a tumor that develops from neuroblasts (immature nerve tissue) in an infant or child, usually before the age of 5. It most often develops in infancy and may be diagnosed in the first month of life. The tumor most often develops in the adrenal gland, but may develop in the neck, chest, or spinal cord. It is considered an aggressive tumor because it often spreads to other parts of the body (metastasizes). In most cases, it has spread by the time it is diagnosed. A Neuroblastoma can cause a variety of signs and symptoms, including a lump where the tumor is growing, bone pain, diarrhea, and various neurological symptoms. The cause of most Neuroblastomas is not known. Rarely, a Neuroblastoma is caused by an inherited genetic change in a gene, such as the ALK gene or PHOX2B gene. Diagnosing a Neuroblastoma may rely on a physical examination, blood tests, imaging tests (such as MRI or CT scan) and ultimately, a biopsy.
Orphanet: 58 Neuroblastoma is a malignant tumor of neural crest cells, the cells that give rise to the sympathetic nervous system, which is observed in children.
Disease Ontology: 11 An autonomic nervous system neoplasm that derives from immature nerve cells.
Wikipedia: 75 Neuroblastoma (NB) is a type of cancer that forms in certain types of nerve tissue. It most frequently... more...
Related Diseases for Neuroblastoma
Diseases related to Neuroblastoma via text searches within MalaCards or GeneCards Suite gene sharing:
(show top 50)
(show all 1475)
Graphical network of the top 20 diseases related to Neuroblastoma: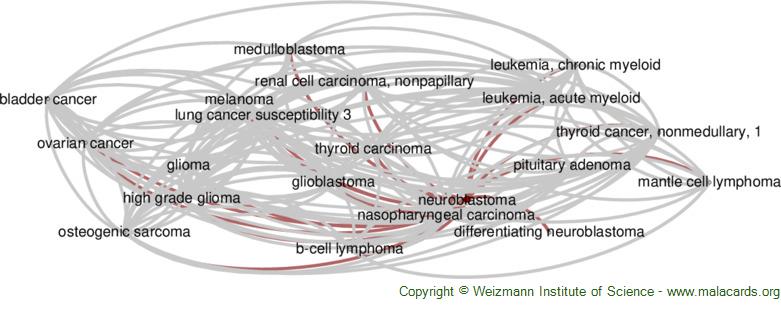 Symptoms & Phenotypes for Neuroblastoma
Human phenotypes related to Neuroblastoma:
58
30
| # | Description | HPO Frequency | Orphanet Frequency | HPO Source Accession |
| --- | --- | --- | --- | --- |
| 1 | neoplasm of the nervous system 58 30 | Hallmark (90%) | Very frequent (99-80%) | HP:0004375 |
| 2 | elevated urinary catecholamines 58 30 | Hallmark (90%) | Very frequent (99-80%) | HP:0011976 |
UMLS symptoms related to Neuroblastoma:
tremor;
back pain;
headache;
syncope;
pain;
chronic pain;
sciatica;
seizures;
vertigo/dizziness;
sleeplessness
Drugs & Therapeutics for Neuroblastoma
Drugs for Neuroblastoma (from DrugBank, HMDB, Dgidb, PharmGKB, IUPHAR, NovoSeek, BitterDB):
(show top 50)
(show all 355)
| | | | | | | | |
| --- | --- | --- | --- | --- | --- | --- | --- |
| # | | Name | Status | Phase | Clinical Trials | Cas Number | PubChem Id |
| 1 | | Lenograstim | Approved, Investigational | Phase 4 | | 135968-09-1 | |
| 2 | | Nicotine | Approved | Phase 4 | | 54-11-5 | 942 89594 |
| 3 | | Itraconazole | Approved, Investigational | Phase 4 | | 84625-61-6 | 55283 |
| 4 | | Dinutuximab | Approved, Investigational | Phase 4 | | 1363687-32-4 | |
| 5 | | Sargramostim | Approved, Investigational | Phase 4 | | 123774-72-1 | |
| 6 | | Topotecan | Approved, Investigational | Phase 4 | | 123948-87-8, 119413-54-6 | 60699 60700 |
| 7 | | Cyclophosphamide | Approved, Investigational | Phase 4 | | 50-18-0, 6055-19-2 | 2907 |
| 8 | | Irinotecan | Approved, Investigational | Phase 4 | | 97682-44-5, 100286-90-6 | 60838 |
| 9 | | Temozolomide | Approved, Investigational | Phase 4 | | 85622-93-1 | 5394 |
| 10 | | Molgramostim | Investigational | Phase 4 | | 99283-10-0 | |
| 11 | | Adjuvants, Immunologic | | Phase 4 | | | |
| 12 | | Hormones | | Phase 4 | | | |
| 13 | | Hormone Antagonists | | Phase 4 | | | |
| 14 | | Cytochrome P-450 Enzyme Inhibitors | | Phase 4 | | | |
| 15 | | Cytochrome P-450 CYP3A Inhibitors | | Phase 4 | | | |
| 16 | | Hydroxyitraconazole | | Phase 4 | | | 108222 |
| 17 | | Immunologic Factors | | Phase 4 | | | |
| 18 | | Antirheumatic Agents | | Phase 4 | | | |
| 19 | | Alkylating Agents | | Phase 4 | | | |
| 20 | | Antineoplastic Agents, Alkylating | | Phase 4 | | | |
| 21 | | topoisomerase I inhibitors | | Phase 4 | | | |
| 22 | | Immunosuppressive Agents | | Phase 4 | | | |
| 23 | | Cobalt | Approved, Experimental, Withdrawn | Phase 3 | | 7440-48-4 | 104729 |
| 24 | | Carbamide peroxide | Approved | Phase 2, Phase 3 | | 124-43-6 | |
| 25 | | Vindesine | Approved, Investigational | Phase 3 | | 59917-39-4, 53643-48-4 | 40839 |
| 26 | | Dacarbazine | Approved, Investigational | Phase 3 | | 4342-03-4 | 2942 5351166 |
| 27 | | Dexrazoxane | Approved, Withdrawn | Phase 3 | | 24584-09-6 | 71384 |
| 28 | | Dopamine | Approved | Phase 3 | | 62-31-7, 51-61-6 | 681 |
| 29 | | Furosemide | Approved, Vet_approved | Phase 3 | | 54-31-9 | 3440 |
| 30 | | Prednisone | Approved, Vet_approved | Phase 3 | | 53-03-2 | 5865 |
| 31 | | Rituximab | Approved | Phase 3 | | 174722-31-7 | |
| 32 | | Dexamethasone acetate | Approved, Investigational, Vet_approved | Phase 3 | | 1177-87-3 | 3680 |
| 33 | | Dexamethasone | Approved, Investigational, Vet_approved | Phase 3 | | 50-02-2 | 3003 5743 |
| 34 | | Melphalan | Approved | Phase 2, Phase 3 | | 148-82-3 | 4053 460612 |
| 35 | | Estradiol | Approved, Investigational, Vet_approved | Phase 3 | | 50-28-2 | 5757 |
| 36 | | Ethinylestradiol | Approved | Phase 3 | | 57-63-6 | 5991 |
| 37 | | Polyestradiol phosphate | Approved | Phase 3 | | 28014-46-2 | |
| 38 | | Norgestimate | Approved, Investigational | Phase 3 | | 35189-28-7 | 6540478 |
| 39 | | Moxifloxacin | Approved, Investigational | Phase 3 | | 186826-86-8, 354812-41-2, 151096-09-2 | 152946 |
| 40 | | Vitamin A | Approved, Nutraceutical, Vet_approved | Phase 3 | | 22737-96-8, 68-26-8 | 5280382 445354 |
| 41 | | Radiopharmaceuticals | | Phase 3 | | | |
| 42 | | 3-Iodobenzylguanidine | | Phase 3 | | | |
| 43 | | Antitubercular Agents | | Phase 3 | | | |
| 44 | | Calcium, Dietary | | Phase 3 | | | |
| 45 | | Sodium thiosulfate | | Phase 3 | | | |
| 46 | | Antioxidants | | Phase 3 | | | |
| 47 | | Cardiotonic Agents | | Phase 3 | | | |
| 48 | | Razoxane | | Phase 3 | | | |
| 49 | | Dihydroxyphenylalanine | | Phase 3 | | | |
| 50 | | Iron-Dextran Complex | | Phase 3 | | | |
Interventional clinical trials:
(show top 50)
(show all 540)
| # | Name | Status | NCT ID | Phase | Drugs |
| --- | --- | --- | --- | --- | --- |
| 1 | G-CSF Alone or Combination With GM-CSF on Prevention and Treatment of Infection in Children With Malignant Tumor: a Prospective, Multicentre, Randomised Controlled Trial | Unknown status | NCT02933333 | Phase 4 | |
| 2 | Clinical Study to Evaluate the Efficacy of Prophylactic Itraconazole in High-Dose Chemotherapy and Autologous Hematopoietic Stem Cell Transplantation for Pediatric Solid Tumors | Completed | NCT00336531 | Phase 4 | itraconazole |
| 3 | RAPID Feasibility Study: A Pilot Study for the Rapid Infusion of Dinutuximab | Not yet recruiting | NCT05421897 | Phase 4 | Dinutuximab with Chemotherapy |
| 4 | European Infant Neuroblastoma Study Final Protocol | Unknown status | NCT00417053 | Phase 3 | busulfan;carboplatin;cyclophosphamide;doxorubicin hydrochloride;etoposide phosphate;melphalan;vincristine sulfate |
| 5 | NB2004 Trial Protocol for Risk Adapted Treatment of Children With Neuroblastoma | Unknown status | NCT00410631 | Phase 3 | carboplatin;cisplatin;cyclophosphamide;dacarbazine;doxorubicin hydrochloride;etoposide phosphate;ifosfamide;isotretinoin;melphalan;topotecan hydrochloride;vincristine sulfate;vindesine |
| 6 | UKCCSG Stage IIB/3 (INSS) Neuroblastoma Pilot Study [ENSG VI (Pilot 2B/3)] | Unknown status | NCT00416676 | Phase 3 | carboplatin;cisplatin;cyclophosphamide;etoposide;vincristine sulfate |
| 7 | High Risk Neuroblastoma Study 1 Of Siop-Europe | Unknown status | NCT00030719 | Phase 3 | busulfan;carboplatin;cyclophosphamide;etoposide;isotretinoin;melphalan;vincristine sulfate |
| 8 | Randomized Study of Radiotherapy in Patients With Stage 2B/3 (INSS) Neuroblastoma in Children Over 1 Year of Age | Unknown status | NCT00276731 | Phase 3 | carboplatin;cisplatin;cyclophosphamide;etoposide;vincristine sulfate |
| 9 | 123I-MIBG Scintigraphy in Patients Being Evaluated for Neuroendocrine Tumors | Unknown status | NCT01373736 | Phase 3 | 123I-meta-iodobenzylguanidine |
| 10 | Phase III Randomized Trial of Single vs. Tandem Myeloablative Consolidation Therapy for High-Risk Neuroblastoma | Completed | NCT00567567 | Phase 3 | Carboplatin;Cisplatin;Cyclophosphamide;Doxorubicin Hydrochloride;Etoposide;Isotretinoin;Melphalan;Thiotepa;Topotecan Hydrochloride;Vincristine Sulfate Liposome |
| 11 | Response- and Biology-Based Therapy for Intermediate-Risk Neuroblastoma | Completed | NCT00499616 | Phase 3 | carboplatin;cyclophosphamide;doxorubicin hydrochloride;etoposide;topotecan hydrochloride;Isotretinoin;Filgrastim |
| 12 | Combination Chemotherapy Followed by Stem Cell Transplant and Isotretinoin in Treating Young Patients With High-risk Neuroblastoma | Completed | NCT03042429 | Phase 3 | Cycles N8, N5 and N6;Cycles N5 and N6 |
| 13 | An Open-Label, Multicentre, Phase 3 Scintigraphy Study Assessing 123I-mIBG Uptake in Subjects Being Evaluated for Phaeochromocytoma or Neuroblastoma | Completed | NCT00126412 | Phase 3 | 123I-mIBG (meta-iodobenzylguanidine) |
| 14 | Treatment Of Children Over The Age Of 1 Year With Unresectable Localized Neuroblastoma Without MYCN Amplification | Completed | NCT00025428 | Phase 3 | carboplatin;cyclophosphamide;doxorubicin hydrochloride;etoposide;vincristine sulfate |
| 15 | Treatment for Infants and Children With Intermediate Risk Neuroblastoma: A Phase III Intergroup CCG/POG Study | Completed | NCT00003093 | Phase 3 | carboplatin;cyclophosphamide;doxorubicin hydrochloride;etoposide |
| 16 | PHASE III MULTICENTRE TRIAL OF TREATMENT OF NEUROBLASTOMA IN CHILDREN AND ADOLESCENTS | Completed | NCT00002802 | Phase 3 | carboplatin;cisplatin;cyclophosphamide;dacarbazine;doxorubicin hydrochloride;etoposide;ifosfamide;melphalan;mesna;vincristine sulfate;vindesine |
| 17 | Comparison of High Dose Rapid Schedule With Conventional Schedule Chemotherapy for Stage 4 Neuroblastoma Over the Age of One Year | Completed | NCT00365755 | Phase 3 | carboplatin;cisplatin;cyclophosphamide;etoposide;melphalan;vincristine sulfate |
| 18 | A Randomized Study of Purged Versus Unpurged Peripheral Blood Stem Cell Transplant Following Dose Intensive Induction Therapy for High Risk Neuroblastoma | Completed | NCT00004188 | Phase 3 | carboplatin;cisplatin;cyclophosphamide;doxorubicin hydrochloride;etoposide;isotretinoin;melphalan;topotecan hydrochloride;vincristine sulfate |
| 19 | A Comprehensive Safety Trial of Chimeric Antibody 14.18 (Ch14.18) With GM-CSF, IL-2 and Isotretinoin in High-Risk Neuroblastoma Patients Following Myeloablative Therapy | Completed | NCT01041638 | Phase 3 | Isotretinoin |
| 20 | Primary Surgical Therapy for Biologically Defined Low-Risk Neuroblastoma: A Pediatric Oncology Group/Children's Cancer Group Intergroup Study | Completed | NCT00003119 | Phase 3 | carboplatin;cyclophosphamide;doxorubicin hydrochloride;etoposide |
| 21 | A Randomized Phase III Study of Sodium Thiosulfate for the Prevention of Cisplatin-Induced Ototoxicity in Children | Completed | NCT00716976 | Phase 3 | sodium thiosulfate |
| 22 | INSPIRE: An Internet-based RCT for Long-term Survivors of Hematopoietic Stem Cell Transplantation | Completed | NCT00799461 | Phase 3 | |
| 23 | 18F-DOPA PET Imaging: an Evaluation of Biodistribution and Safety | Completed | NCT03042416 | Phase 3 | 18F-DOPA |
| 24 | HSCT-CHESS to Enhance Hematopoietic Transplant Recovery | Completed | NCT00782145 | Phase 3 | |
| 25 | A Randomized Double Blinded Trial of Topical Caphosol to Prevent Oral Mucositis in Children Undergoing Hematopoietic Stem Cell Transplantation | Completed | NCT01305200 | Phase 3 | supersaturated calcium phosphate rinse |
| 26 | Utilizing Response- and Biology-Based Risk Factors to Guide Therapy in Patients With Non-High-Risk Neuroblastoma | Recruiting | NCT02176967 | Phase 3 | Carboplatin;Cyclophosphamide;Doxorubicin Hydrochloride;Etoposide |
| 27 | High-Risk Neuroblastoma Study 2 of SIOP-Europa-Neuroblastoma (SIOPEN) | Recruiting | NCT04221035 | Phase 3 | Vincristine;Carboplatin;Etoposide;Cyclophosphamide;Vindesine;Dacarbazine;Ifosfamide;Doxorubicin;Busulfan;Melphalan;Thiotepa;Dinutuximab Beta;Cisplatin |
| 28 | A Multicenter Phase 2/3 Trial of the Efficacy and Safety of Intracerebroventricular Radioimmunotherapy Using 131I-omburtamab for Neuroblastoma Central Nervous System/Leptomeningeal Metastases | Recruiting | NCT03275402 | Phase 2, Phase 3 | |
| 29 | A Prospective Phase 3 Multi-center Study to Assess the Efficacy and Safety of 18F-mFBG PET Imaging in Subjects With Neuroblastoma | Recruiting | NCT04724369 | Phase 3 | 18F-MFBG |
| 30 | High Risk Neuroblastoma Study 1 of SIOP-Europe (SIOPEN) | Recruiting | NCT01704716 | Phase 3 | Vincristine;Aldesleukin;ch14.18/CHO;Carboplatin;Etoposide;Cisplatin;Cyclophosphamide;Doxorubicin;G-CSF;Busulfan;Melphalan |
| 31 | A Phase 3 Study of 131I-Metaiodobenzylguanidine (131I-MIBG) or ALK Inhibitor Therapy Added to Intensive Therapy for Children With Newly Diagnosed High-Risk Neuroblastoma (NBL) | Recruiting | NCT03126916 | Phase 3 | Busulfan;Carboplatin;Cisplatin;Cyclophosphamide;Dexrazoxane Hydrochloride;Doxorubicin Hydrochloride;Etoposide Phosphate;Isotretinoin;Lorlatinib;Melphalan Hydrochloride;Thiotepa;Topotecan Hydrochloride;Vincristine Sulfate |
| 32 | European Low and Intermediate Risk Neuroblastoma Protocol | Recruiting | NCT01728155 | Phase 3 | chemotherapy |
| 33 | 18F-DOPA II - PET Imaging Optimization | Recruiting | NCT04706910 | Phase 3 | 18F-DOPA;Furosemide Injection |
| 34 | Phase III Randomized Study of Chimeric Antibody 14.18 (Ch14.18) in High Risk Neuroblastoma Following Myeloablative Therapy and Autologous Stem Cell Rescue | Active, not recruiting | NCT00026312 | Phase 3 | Isotretinoin |
| 35 | A Pilot Study Randomized Trial of Intravenous Gammaglobulin Therapy for Patients With Neuroblastoma Associated Opsoclonus-Myoclonus-Ataxia Syndrome Treated With Chemotherapy and Prednisone | Active, not recruiting | NCT00033293 | Phase 3 | cyclophosphamide;prednisone;Corticotropin-Releasing Hormone |
| 36 | Multinational European Trial for Children With the Opsoclonus Myoclonus Syndrome / Dancing Eye Syndrome | Active, not recruiting | NCT01868269 | Phase 3 | Dexamethasone acetate;dexamethasone and cyclophosphamide;dexamethasone and rituximab |
| 37 | Autologous Stem Cell Rescue With CD133+ Selected Hematopoietic Progenitor Cells in Patients With High-Risk Neuroblastoma | Terminated | NCT00539500 | Phase 2, Phase 3 | Carboplatin;Etoposide;Melphalan |
| 38 | Prospective and Randomized Study of Fixed Versus Flexible Prophylactic Administration of Granulocyte Colony-Stimulating Factor (G-CSF) in Children With Cancer | Terminated | NCT01987596 | Phase 3 | |
| 39 | Randomized, Double Blinded, Placebo-Controlled Trial of Antibacterial Prophylaxis for the Prevention of Bacterial Infections in the Post-Engraftment Phase After Allogeneic Hematopoeitic Stem Cell Transplantation | Terminated | NCT00324324 | Phase 3 | moxifloxacin hydrochloride;Placebo |
| 40 | An Open-Label, Multicentre, Phase II Study of TVD as Treatment for Children With Stage 4 Neuroblastoma Failing to Respond to First-Line Treatment According to HR-NBL-01/ E-SIOP [Topotecan-Vincristine-Doxorubicin in Children With Stage 4 Neuroblastoma Failing to Respond to COJEC (TVD)] | Unknown status | NCT00392340 | Phase 2 | doxorubicin hydrochloride;topotecan hydrochloride;vincristine sulfate |
| 41 | Treatment of Neuroblastoma and GD2-Positive Tumors With Activated T Cells Armed With OKT3 X Humanized 3F8 Bispecific Antibodies (GD2Bi): A Phase I/II Study | Unknown status | NCT02173093 | Phase 1, Phase 2 | |
| 42 | Evaluation of Benefit and Side Effects of 131I-MIBG in Combination With Myeloablative Chemotherapy and Autologous Peripheral Blood Stem Cell Transplantation for the Treatment of High-risk Neuroblastoma | Unknown status | NCT00798148 | Phase 1, Phase 2 | 131I-MIBG , Etoposide, Melphalan, Carboplatin, Autologous Peripheral Stem Cell Transplantation |
| 43 | A Phase I/II Dose Schedule Finding Study of ch14.18/CHO Continuous Infusion Combined With Subcutaneous Aldesleukin (IL-2) in Patients With Primary Refractory or Relapsed Neuroblastoma | Unknown status | NCT01701479 | Phase 1, Phase 2 | ch14.18/CHO;Aldesleukin;Isotretinoin |
| 44 | Phase 2 Study of Anti-angiogenetic Therapy With Radiotherapy for Pediatric Neuroblastoma | Unknown status | NCT02615106 | Phase 2 | Endostar |
| 45 | Phase II Feasability Study Using ch14.18/CHO Antibody and Subcutaneous Interleukin 2 After Haploidentical Stem Cell Transplantation in Children With Relapsed Neuroblastoma | Unknown status | NCT02258815 | Phase 2 | ch14.18/CHO |
| 46 | High-dose 131I-MIBG Treatment Incorporated Into Tandem High-dose Chemotherapy and Autologous Stem Cell Transplantation in Patients With High-risk Neuroblastoma | Unknown status | NCT03061656 | Phase 2 | Cyclophosphamide;Carboplatin;Etoposide;Thiotepa;Melphalan |
| 47 | Phase II Trial of Surgery as the Only Treatment for INSS Stage 2A & 2B Neuroblastoma | Unknown status | NCT00416559 | Phase 2 | |
| 48 | Pilot Study of Anti-GD2 and Expanded, Activated Natural Killer Cell Infusion for Neuroblastoma | Unknown status | NCT03242603 | Phase 1, Phase 2 | |
| 49 | A Study Of The Treatment Of Metastatic Neuroblastoma In Children More Than One Year Of Age At Diagnosis | Unknown status | NCT00024193 | Phase 2 | busulfan;cisplatin;cyclophosphamide;doxorubicin hydrochloride;etoposide;melphalan;vincristine sulfate |
| 50 | Phase II Trial of Surgery as the Only Treatment for INSS Stage 2A & 2B Neuroblastoma | Unknown status | NCT00003122 | Phase 2 | |
Inferred drug relations via
UMLS

71 /

NDF-RT

50 :
Cochrane evidence based reviews: neuroblastoma
Genetic Tests for Neuroblastoma
Anatomical Context for Neuroblastoma
Organs/tissues related to Neuroblastoma:
MalaCards

:
Adrenal Gland,
Bone Marrow,
Spinal Cord,
Bone,
T Cells,
Skin,
Thyroid
Publications for Neuroblastoma
Articles related to Neuroblastoma:
(show top 50)
(show all 31422)
| # | Title | Authors | PMID | Year |
| --- | --- | --- | --- | --- |
| 1 | ALK mutations conferring differential resistance to structurally diverse ALK inhibitors. 62 5 | | 21948233 | 2011 |
| 2 | Activating ALK mutations found in neuroblastoma are inhibited by Crizotinib and NVP-TAE684. 62 5 | | 21838707 | 2011 |
| 3 | Differential inhibitor sensitivity of anaplastic lymphoma kinase variants found in neuroblastoma. 62 5 | | 22072639 | 2011 |
| 4 | The constitutive activity of the ALK mutated at positions F1174 or R1275 impairs receptor trafficking. 62 5 | | 21242967 | 2011 |
| 5 | High incidence of DNA mutations and gene amplifications of the ALK gene in advanced sporadic neuroblastoma tumours. 62 5 | | 18990089 | 2008 |
| 6 | Somatic and germline activating mutations of the ALK kinase receptor in neuroblastoma. 62 5 | Janoueix-Lerosey I...Delattre O | 18923523 | 2008 |
| 7 | Activating mutations in ALK provide a therapeutic target in neuroblastoma. 62 5 | | 18923525 | 2008 |
| 8 | Identification of ALK as a major familial neuroblastoma predisposition gene. 62 5 | | 18724359 | 2008 |
| 9 | The kinesin KIF1Bbeta acts downstream from EglN3 to induce apoptosis and is a potential 1p36 tumor suppressor. 62 5 | | 18334619 | 2008 |
| 10 | GPC2 antibody-drug conjugate reprograms the neuroblastoma immune milieu to enhance macrophage-driven therapies. 62 41 | Pascual-Pasto G...Bosse KR | 36460335 | 2022 |
| 11 | The human ion channel TRPM2 modulates migration and invasion in neuroblastoma through regulation of integrin expression. 62 41 | | 36446940 | 2022 |
| 12 | Benzo(a)pyrene-7,8-dihydrodiol-9,10-epoxide induces ferroptosis in neuroblastoma cells through redox imbalance. 62 41 | | 36450496 | 2022 |
| 13 | Identifying recurrent mutations in cancer reveals widespread lineage diversity and mutational specificity. 5 | | 26619011 | 2016 |
| 14 | CH5424802, a selective ALK inhibitor capable of blocking the resistant gatekeeper mutant. 5 | | 21575866 | 2011 |
| 15 | MicroRNA mediates DNA demethylation events triggered by retinoic acid during neuroblastoma cell differentiation. 62 46 | | 20841484 | 2010 |
| 16 | MicroRNA miR-29 modulates expression of immunoinhibitory molecule B7-H3: potential implications for immune based therapy of human solid tumors. 62 46 | | 19584290 | 2009 |
| 17 | Post-transcriptional regulation of mouse mu opioid receptor (MOR1) via its 3' untranslated region: a role for microRNA23b. 62 46 | | 18716031 | 2008 |
| 18 | The MYCN oncogene is a direct target of miR-34a. 62 46 | | 18504438 | 2008 |
| 19 | Antagomir-17-5p abolishes the growth of therapy-resistant neuroblastoma through p21 and BIM. 62 46 | | 18493594 | 2008 |
| 20 | A functional screen identifies miR-34a as a candidate neuroblastoma tumor suppressor gene. 62 46 | | 18505919 | 2008 |
| 21 | MYCN regulates oncogenic MicroRNAs in neuroblastoma. 62 46 | | 17943719 | 2008 |
| 22 | MicroRNA-34a functions as a potential tumor suppressor by inducing apoptosis in neuroblastoma cells. 62 46 | | 17297439 | 2007 |
| 23 | The interplay between microRNAs and the neurotrophin receptor tropomyosin-related kinase C controls proliferation of human neuroblastoma cells. 62 46 | | 17483472 | 2007 |
| 24 | Differential patterns of microRNA expression in neuroblastoma are correlated with prognosis, differentiation, and apoptosis. 62 46 | | 17283129 | 2007 |
| 25 | Valproate-induced hepatoxicity: protective effect of L-carnitine supplementation. 5 | | 2124297 | 1990 |
| 26 | Neural regeneration research model to be explored: SH-SY5Y human neuroblastoma cells. 62 | Hoffmann LF...Goettert MI | 36453406 | 2023 |
| 27 | The alteration of the expression level of neuropathy target esterase in human neuroblastoma SK-N-SH cells disrupts cellular phospholipids homeostasis. 62 | | 36336212 | 2023 |
| 28 | Hydrothermal vs microwave nanoarchitechtonics of carbon dots significantly affects the structure, physicochemical properties, and anti-cancer activity against a specific neuroblastoma cell line. 62 | | 36244103 | 2023 |
| 29 | Cost-effectiveness of childhood cancer treatment in Egypt: Lessons to promote high-value care in a resource-limited setting based on real-world evidence. 62 | | 36386036 | 2023 |
| 30 | CFDP1 is a neuroblastoma susceptibility gene that regulates transcription factors of the noradrenergic cell identity. 62 | | 36425957 | 2023 |
| 31 | Renal function in abdominal neuroblastoma patients undergoing proton radiotherapy. 62 | | 36129239 | 2023 |
| 32 | Primary Olfactory Neuroblastoma of the Nasopharynx: A Case Report. 62 | | 33474978 | 2023 |
| 33 | Immunotherapy with anti-GD2 monoclonal antibody in infants with high-risk neuroblastoma. 62 | | 35913764 | 2023 |
| 34 | Quercetin Attenuates Copper-Induced Apoptotic Cell Death and Endoplasmic Reticulum Stress in SH-SY5Y Cells by Autophagic Modulation. 62 | Chakraborty J...Bandyopadhyay J | 35149956 | 2022 |
| 35 | The role of ADC value and Ki-67 index in predicting the response to neoadjuvant chemotherapy in advanced stages of olfactory neuroblastoma. 62 | | 36240450 | 2022 |
| 36 | Outcomes Following GD2-Directed Postconsolidation Therapy for Neuroblastoma After Cessation of Random Assignment on ANBL0032: A Report From the Children's Oncology Group. 62 | | 35839426 | 2022 |
| 37 | Celastrol promotes apoptotic cell death in children neuroblastoma cells through caspases dependent pathway. 62 | | 36378044 | 2022 |
| 38 | Depletion of Foxp3+ regulatory T cells but not the absence of CD19+IL-10+ regulatory B cells hinders tumor growth in a para-orthotopic neuroblastoma mouse model. 62 | | 36054664 | 2022 |
| 39 | Neuroblastoma SH-SY5Y Cell Differentiation to Mature Neuron by AM580 Treatment. 62 | | 36066699 | 2022 |
| 40 | Dual isothermal amplification all-in-one approach for rapid and highly sensitive quantification of plasma circulating MYCN gene of neuroblastoma. 62 | | 36162447 | 2022 |
| 41 | Neuroblastoma Suppressor of Tumorigenicity 1 Mediates Endothelial-to-Mesenchymal Transition in Pulmonary Arterial Hypertension Related to Congenital Heart Disease. 62 | | 36169661 | 2022 |
| 42 | Metastatic neuroblastoma masquerading as orbital retinoblastoma. 62 | | 36469584 | 2022 |
| 43 | PHOX2B is a Sensitive and Specific Marker for the Histopathological Diagnosis of Pheochromocytoma and Paraganglioma. 62 | | 36029394 | 2022 |
| 44 | Systematic review of clinical drug development activities for neuroblastoma from 2011 to 2020. 62 | | 36458672 | 2022 |
| 45 | A nomogram for predicting recurrence-free survival of intermediate and high-risk neuroblastoma. 62 | | 36149505 | 2022 |
| 46 | Transcriptome Analysis Reveals the Anti-Tumor Mechanism of Eucalyptol Treatment on Neuroblastoma Cell Line SH-SY5Y. 62 | | 36331666 | 2022 |
| 47 | Correction to: Transcriptome Analysis Reveals the Anti-Tumor Mechanism of Eucalyptol Treatment on Neuroblastoma Cell Line SH-SY5Y. 62 | | 36414918 | 2022 |
| 48 | Observation of α-Synuclein Preformed Fibrils Interacting with SH-SY5Y Neuroblastoma Cell Membranes Using Scanning Ion Conductance Microscopy. 62 | | 36455298 | 2022 |
| 49 | Chlorpyrifos and parathion regulate oxidative stress differentially through the expression of paraoxonase 2 in human neuroblastoma cell. 62 | | 36058312 | 2022 |
| 50 | Retraction Note: Fluoxetine induces apoptosis through endoplasmic reticulum stress via mitogen-activated protein kinase activation and histone hyperacetylation in SK-N-BE(2)-M17 human neuroblastoma cells. 62 | | 36180606 | 2022 |
Variations for Neuroblastoma
ClinVar genetic disease variations for Neuroblastoma:
5
(show top 50)
(show all 293)
Copy number variations for Neuroblastoma from CNVD:
6
(show top 50)
(show all 232)
| # | CNVD ID | Chromosome | Start | End | Type | Gene Symbol | CNVD Disease |
| --- | --- | --- | --- | --- | --- | --- | --- |
| 1 | 13319 | 1 | 1 | 124300000 | Amplification and loss | | Neuroblastoma |
| 2 | 13325 | 1 | 1 | 124300000 | Deletion | | Neuroblastoma |
| 3 | 13344 | 1 | 1 | 125000000 | Copy number | | Neuroblastoma |
| 4 | 13349 | 1 | 1 | 125000000 | Deletion | | Neuroblastoma |
| 5 | 13355 | 1 | 1 | 125000000 | Loss | | Neuroblastoma |
| 6 | 13407 | 1 | 1 | 2300000 | Copy number | GNB1 | Neuroblastoma |
| 7 | 13408 | 1 | 1 | 2300000 | Copy number | SLC35E2A | Neuroblastoma |
| 8 | 13751 | 1 | 1 | 27800000 | Loss | | Neuroblastoma |
| 9 | 13762 | 1 | 1 | 28000000 | Deletion | | Neuroblastoma |
| 10 | 13837 | 1 | 10001852 | 10151200 | Loss | KIF1B | Neuroblastoma |
| 11 | 16476 | 1 | 125000000 | 249250621 | Copy number | CHD5 | Neuroblastoma |
| 12 | 16477 | 1 | 125000000 | 249250621 | Copy number | KIF1B | Neuroblastoma |
| 13 | 16597 | 1 | 128000000 | 247249719 | Gain | | Neuroblastoma |
| 14 | 16598 | 1 | 128000000 | 247249719 | Gain | | Neuroblastoma |
| 15 | 17283 | 1 | 142400000 | 148000000 | Copy number | NBPF17P | Neuroblastoma |
| 16 | 17374 | 1 | 142600000 | 147000000 | Copy number | NBPF1 | Neuroblastoma |
| 17 | 17375 | 1 | 142600000 | 147000000 | Copy number | NBPF15 | Neuroblastoma |
| 18 | 17376 | 1 | 142600000 | 147000000 | Copy number | NBPF3 | Neuroblastoma |
| 19 | 18773 | 1 | 147305744 | 147427061 | Copy number | NBPF1 | Neuroblastoma |
| 20 | 20614 | 1 | 153300000 | 247249719 | Gain | | Neuroblastoma |
| 21 | 20884 | 1 | 155000000 | 249250621 | Gain | | Neuroblastoma |
| 22 | 26022 | 1 | 195715155 | 196905060 | Gain | | Neuroblastoma |
| 23 | 27292 | 1 | 206429564 | 209469901 | Gain | | Neuroblastoma |
| 24 | 29290 | 1 | 2300000 | 12600000 | Loss | | Neuroblastoma |
| 25 | 29291 | 1 | 2300000 | 12600000 | Loss | | Neuroblastoma |
| 26 | 29292 | 1 | 2300000 | 12700000 | Loss | | Neuroblastoma |
| 27 | 32651 | 1 | 3815958 | 4146056 | Amplification | DFFB | Neuroblastoma |
| 28 | 32934 | 1 | 4056522 | 10472147 | Loss | | Neuroblastoma |
| 29 | 33588 | 1 | 46500000 | 51300000 | Deletion | | Neuroblastoma |
| 30 | 34972 | 1 | 5871399 | 5949729 | Loss | CHD5 | Neuroblastoma |
| 31 | 36107 | 1 | 7200000 | 16200000 | Copy number | | Neuroblastoma |
| 32 | 37032 | 1 | 84700000 | 88100000 | Deletion | | Neuroblastoma |
| 33 | 42798 | 10 | 40200000 | 135534747 | Loss | | Neuroblastoma |
| 34 | 43291 | 10 | 46100000 | 50100000 | Gain | | Neuroblastoma |
| 35 | 48305 | 11 | 1 | 10700000 | Loss | | Neuroblastoma |
| 36 | 48306 | 11 | 1 | 10700000 | Loss | | Neuroblastoma |
| 37 | 48334 | 11 | 1 | 2800000 | Gain | | Neuroblastoma |
| 38 | 49040 | 11 | 102400000 | 134452384 | Deletion | | Neuroblastoma |
| 39 | 49300 | 11 | 10515175 | 10701970 | Amplification | IRAG1 | Neuroblastoma |
| 40 | 49301 | 11 | 10515175 | 10701970 | Amplification | RNF141 | Neuroblastoma |
| 41 | 49302 | 11 | 10515175 | 10701970 | Amplification | LYVE1 | Neuroblastoma |
| 42 | 49698 | 11 | 110314720 | 118319416 | Loss | | Neuroblastoma |
| 43 | 50154 | 11 | 114581997 | 114912893 | Loss | CADM1 | Neuroblastoma |
| 44 | 51496 | 11 | 12700000 | 16200000 | Copy number | SOX6 | Neuroblastoma |
| 45 | 52328 | 11 | 16100000 | 21600000 | Deletion | | Neuroblastoma |
| 46 | 52785 | 11 | 19817525 | 19848438 | Amplification | NAV2 | Neuroblastoma |
| 47 | 52827 | 11 | 2043796 | 2201921 | Amplification | IGF2 | Neuroblastoma |
| 48 | 52828 | 11 | 2043796 | 2201921 | Amplification | INS | Neuroblastoma |
| 49 | 52829 | 11 | 2043796 | 2201921 | Amplification | TH | Neuroblastoma |
| 50 | 53355 | 11 | 2800000 | 10700000 | Duplication | LMO1 | Neuroblastoma |
Pathways for Neuroblastoma
GO Terms for Neuroblastoma
Biological processes related to Neuroblastoma according to GeneCards Suite gene sharing:
| # | Name | GO ID | Score | Top Affiliating Genes |
| --- | --- | --- | --- | --- |
| 1 | negative regulation of vascular endothelial growth factor production | GO:1904046 | 8.62 | MIR34A MIR17 |
Sources for Neuroblastoma